Trending:
In Poland, the remains of a female "vampire" of the XVII century were discovered: with a sickle on her neck and a lock on her toe. Photo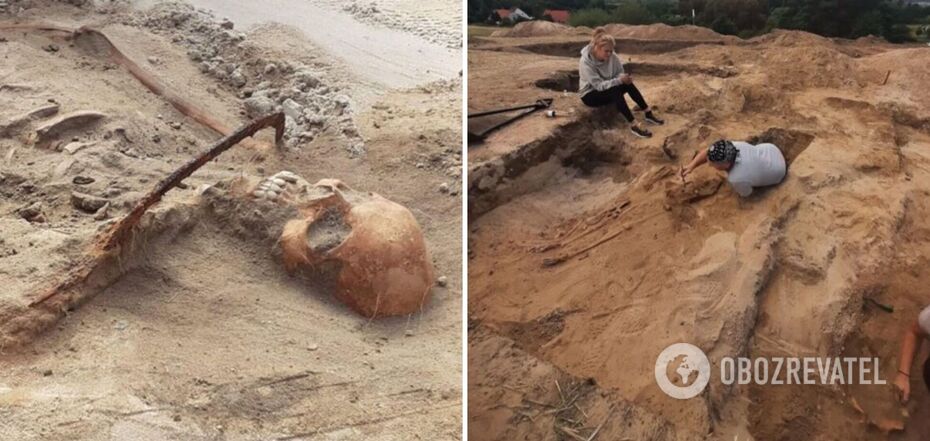 The remains of a 17th century female "vampire" were discovered in Poland
During archaeological excavations in the village of Pien, Poland, scientists found the skeleton of a woman who might have been a vampire in the 17th century. This is evidenced by a sickle around the neck and a padlock on the big toe found on the remains.
Such measures were used in ancient times to bury "vampires" so that they could not come out of the grave, as they were feared even after death. Pictures of the unique find for Poland were made public on the website Arsethnisa.
In different countries, people believed to be vampires were buried in different ways. For example, in the early Middle Ages, Russian peasants exhumed suspicious corpses and destroyed the bodies by cremation, decapitation, or driving a wooden stake through the heart. Stakes were often fastened over corpses at burial, so that the creature would pierce itself if it "tried to escape." In Germany and in the West Slavic regions, suspected vampirists were beheaded and the head buried between the legs or away from the body.
Leaving the sickle around the neck and the padlock on the thumb is one method.
"The sickle was not placed flat, but put around the neck in such a way that if the deceased had tried to stand up, it is likely that the head would have been cut off or damaged. The lock, on the other hand, symbolizes the closure of the stage and the impossibility of returning," explained Professor Dariusz Polinski.
In addition, archaeologists in Poland discovered a silk cap on the skull of the found skeleton. This led to the conclusion that the woman had a high social status.
The scientists also drew attention to the large protruding front tooth of their find. They suggested that it was the woman's unusual appearance that might have caused superstitious locals in the 17th century to brand her a vampire or witch.
Archaeologists were surprised that the woman's body was buried with great care. For "anti-vampire" rituals of the time this is very rare.
The found remains were taken to Torun, where they are awaiting a thorough examination.
As wrote OBOZREVATEL, a scientific company OceanGate Expeditions, which is engaged in deep-sea research, released the first video of the Titanic sunken in 8K resolution. Modern technology and the quality of the image allowed scientists to view never-before-seen details on the deck and bow of the liner.
Only verified information on our Telegram-channel Obozrevatel and Viber. Do not be fooled by fakes!