Trending:
Hvar and Hua Hin: the best islands for a romantic trip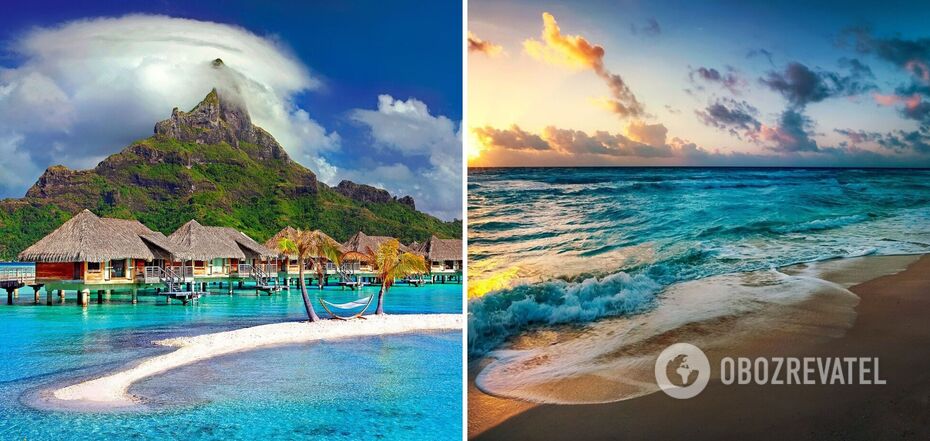 The best resorts for a romantic vacation
There is nothing better than a romantic vacation on the islands. Just imagine small houses, white sand, singing exotic birds and you two, as if no one is around and does not exist. The main thing is to choose the right resort, so that there was no noisy crowd around to fight for a place on the beach.
The Grenadines
This archipelago is surrounded by the warm waters of the Caribbean Sea. It's perfect for people who don't like boring, monotonous vacations. Every day you can choose a new resort, shuttling through 32 islands. Here you'll find fiery parties, tranquil beaches, rainforests... Whatever you want.
The archipelago is also a great place for water sports. You can dive, snorkel, take a boat ride or explore the area on foot or bicycle tours.
It is worth noting that the local islets are very small and virtually unpopulated. The largest of them, Carriacou, has less than 8 thousand people. Almost all of them work in the field of tourism, because there are simply no other activities here.
Hvar, Croatia
This is probably the most popular and beautiful island in Croatia. It's not hard to get to: there is a daily ferry from the mainland which takes you 2 hours to reach the paradise.
The choice of entertainment here is very great, but you should start by exploring the central town, also called Hvar. Here you will see palaces and ordinary houses of Renaissance and Gothic styles, walk through the narrow streets, enter one of the restaurants and taste incredible dishes.
Next we recommend a tour of the fishing villages, which will amaze you with their beauty. They are located along the coastline, so they have many beautiful beaches and interesting food establishments.
If you get tired of such landscapes, you can walk through the lavender fields, which cover a large part of the island.
Tasmania, Australia
If you want to relax on an island but lying on the beach for hours is not about you, choose Tasmania for your vacation. This picturesque Australian state will surprise you with plenty of lakes, waterfalls, mountains, beautiful hiking trails, great service and delicious locally produced wine.
There really is a lot to see on the island. For example, there is an ancient prison of Port Arthur, the corridors of which can now walk anyone. For those who prefer a quieter holiday, we can offer a walk in the national parks Freycinet or Mount Field.
Tasmania, like Hvar Island, has many lavender fields, the beauty of which is enchanting at first sight.
Isla Mujeres, Mexico
Chances are you have never heard of this island, although it is very popular among European and American tourists. In ancient times, the indigenous people of this region, the Mayans, believed that Isla Mujares belonged to the goddess Ixchel, who could cure any disease.
Now there are elite dive centers and schools that organize diving near the large reefs. Hundreds of different sea creatures can be seen here.
In general, the island is chosen for the beautiful beaches, the relative tranquility (compared to neighboring resorts there are virtually no people) and also for the scenery, which is impossible to describe with words.
Hua Hin, French Polynesia
No matter how you envision your perfect romantic vacation, this island will live up to your expectations. From snow-white beaches to ancient temples, from quiet nooks among tall trees to bustling clubs, it has it all.
In Hua Hin there is a lot of activities. Here you can ride a horse, a bike, scuba dive, go on excursions, learn about local culture and attend various festivals.
La Digue, Seychelles
This is one of the few resorts in the world where time really stands still. There are no roads, developed infrastructure and many of the benefits of civilization in general. However, here you can really relax your body and soul, strolling along quiet paths, lying on one of dozens of beautiful beaches or going to neighboring resorts, where there are many different entertainments.
Kauai, USA
This island is made for lovers of gastronomic tourism. The local cuisine can amaze even the most demanding gourmets. It combines Filipino, Japanese, Hawaiian and Korean cuisines, so you're sure to find a dish that will win you over.
And there's plenty of entertainment to keep you active. Thus, the destination is suitable for both relaxing and active holidays.
Earlier OBOZREVATEL told about little-known islands.
Only verified information in our Telegram channel Obozrevatel and in Viber. Do not be fooled by fakes!