Trending:
How to water cucumbers so that they never become bitter: tips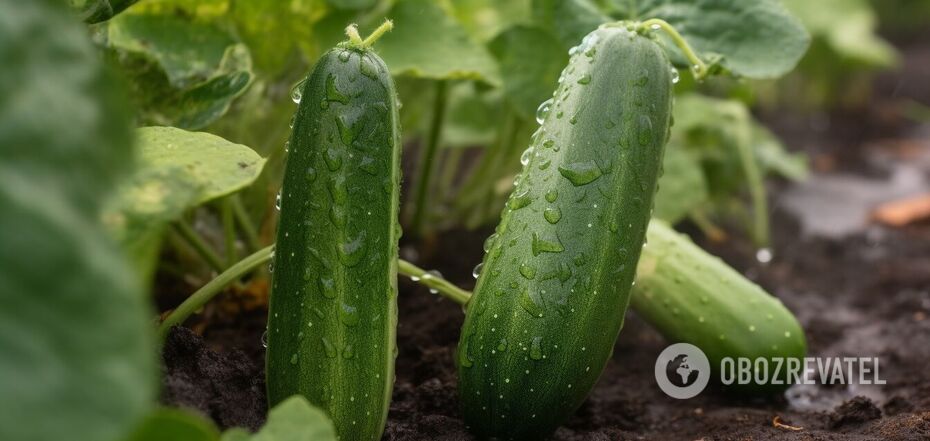 Cucumbers
Beautiful to look at cucumbers can have a bitter taste. There is a substance in the tissues of the fruit that is found in the leaves and stem, and this is what can create bitterness.
Improper care, unfavorable conditions and stress factors spoil the taste of vegetables. OBOZREVATEL collected effective tips that will help to grow delicious and juicy cucumbers.
First of all, the plant should be properly watered. Before the beginning of flowering, you need to moisten the soil every week. Protracted or heavy rains are also considered watering, so pay attention to weather conditions to avoid excessive moisture.
On one square meter of the plot where cucumbers are planted, you need at least five liters of water.
As soon as the first ovaries appear, you need to water the seedlings three times a week. Observe this system until the appearance of fruits. At the same time, one square meter of land requires 10 liters of water.
From August and until the last harvest, watering should be reduced. It is enough to moisten the soil once every week and a half. For one square meter - three to four liters of water.
Cucumbers can not be watered with cold water. Because this can lead to diseases, and then the harvest will not be. Use only tempered water. Dial in the morning full buckets or barrels of water and the next day you can water the seedlings.
For watering it is better to use a watering can without nozzle. The water jet should hit only the soil, not the entire plant.
Earlier OBOZREVATEL published a simple recipe for pickled cucumbers for the winter, which will not take much of your time.
Subscribe to OBOZREVATELchannels in Telegram, Viber and Threads to keep up to date.