Trending:
How to wash your hands after nuts: the most effective remedies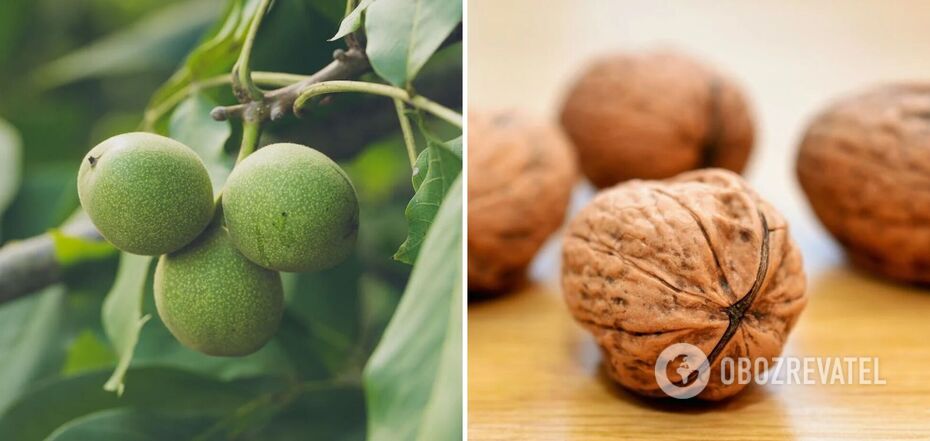 Walnuts
The ripening season of walnuts starts at the end of August and lasts until October, it all depends on the variety and climate. If cracks appear on the green shell of the fruit, then it's time to harvest.
But after cleaning nuts on the hands remain dark spots, from which it is difficult to get rid of. OBOZREVATEL found effective methods that will help to cope with this.
It is better to put on rubber gloves in advance to avoid the appearance of unwanted stains from nuts. Because the green peel contains a persistent pigment that contaminates the hands and can stay on the skin for up to two weeks.
The juice of a lemon will help cleanse your skin, but first wash your hands with soap and water. Then cut off a slice of lemon and rub it thoroughly on the dark spots. You can also squeeze the lemon juice and dip a cotton ball in it to make it convenient to clean the skin. Repeat the procedure until the dirt is gone, but take a break of 2-3 hours to avoid damaging the skin of your hands.
Citric acid is also suitable for this purpose. Dissolve half a teaspoon of the mixture in 2/3 cup of water and use a cotton ball to clean the desired areas.
Sea salt will cope with unwanted stains if they are on the palms or hands. Wet your hands with water, apply salt to them and lightly rub the skin. On more delicate areas it is better not to use this method
Hydrogen peroxide will help to clean the dirt, if the stains are fresh and have not yet had time to darken. Soak absorbent cotton in the solution and rub your hands.
Grapes will also whiten the skin from black spots. Cut a grape and rub the desired areas. You can also make a bath from grape juice. Squeeze the juice from the fruit and soak your hands in it for 10 minutes. Then wash your skin with soap and water and apply moisturizing cream.
Ammonia has a pungent odor, but will effectively cope with stains from nuts. Soak absorbent cotton in a 10% solution and rub the desired areas. It is better to do it outdoors rather than indoors.
Earlier OBOZREVATEL published effective ways that will help to easily clean walnuts.
Subscribe to OBOZREVATELchannels in Telegram and Viber to keep up to date.