Trending:
How to wash wool socks so they don't lose their shape: winter life hacks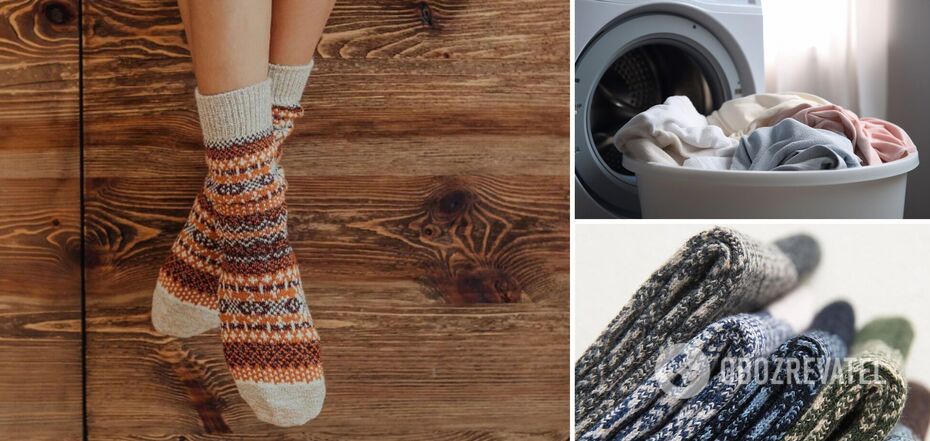 How to wash wool socks
Socks made from natural materials retain heat for a long time. Your feet do not get cold and do not sweat. Woolen socks usually do not cause skin irritation, do not lead to rashes, and are completely safe for allergy sufferers.
Woolen products are warm and comfortable, but there are also disadvantages: frequent washing can cause socks to lose their shape. OBOZ.UA has figured out all the nuances of caring for wool socks.
How to wash wool socks
Socks made of natural wool require special care. Only if they are properly washed will they last a long time, not stretch or deform. They do not need to be wringed out, and it is better to dry them in the fresh air rather than on batteries. Let's take a closer look at all aspects of care.
Step 1: sorting
Be sure to sort before washing. Light and dark items, including socks, should be washed separately.
Step 2: pre-cleaning
Foreign particles can stick to the wool: garbage, hair, food crumbs, pet hair, etc. These residues should be carefully removed from the sole before washing.
Step 3: washing
Experts advise washing wool socks by hand. This is especially true for hand-knitted products.
High temperatures can lead to deformation of the threads, so the water should be cool, no higher than 30 degrees. Even at a temperature of 40 degrees, socks made of real wool begin to lose their shape.
It is better to use liquid gels rather than powders. Choose a product designed specifically for wool.
Avoid strong friction - wash socks carefully.
Finally, rinse the socks in cool water. For softness and fragrance, you can add fabric softener during the last rinse.
Do not squeeze woolen products too hard when spinning. Just roll the socks gently and squeeze out the water several times.
It is advisable not to dry woolen products on radiators or radiators. High temperatures are contraindicated for natural fabrics. It is better to dry socks in the fresh air or spread them out on a towel.
Woolen products do not need to be ironed.
Earlier, OBOZ.UA told you how to properly wash winter jackets so that there are no stains and the synthetic winterizer does not get lost.
Subscribe to the OBOZ.UA channels in Telegram and Viber to keep up with the latest events.