Trending:
How to wash a swimsuit without damaging it: life hacks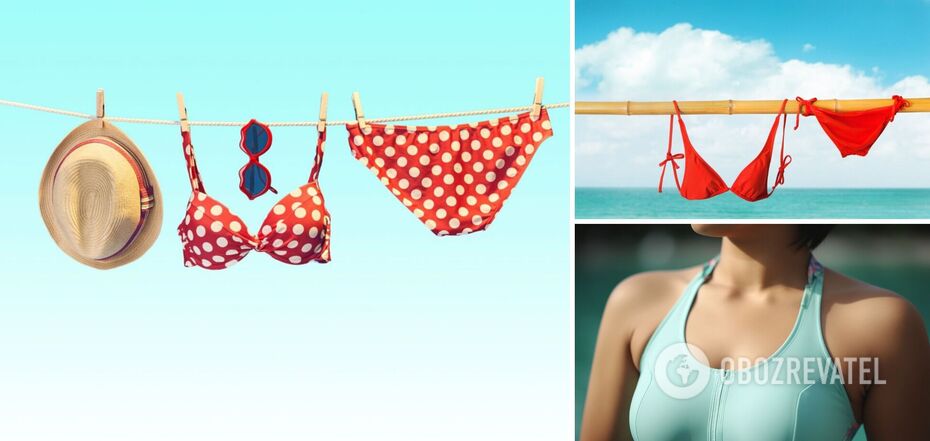 How to wash a swimsuit correctly
The swimsuit should be washed every time you go to the swimming pool or open water. Chlorinated water can cause discolouration and loss of elasticity. Saltwater, although not as harmful as chlorine, also causes dullness and stretching of the fibres. Freshwater is, of course, the safest option for fabrics - after swimming in a lake or river, you can simply rinse the swimsuit and hang it up to dry.
The swimsuit is best washed by hand in warm water with a mild detergent. Lifehacker magazine provides more details on the nuances.
Swimwear is made of special elastic materials, so improper washing can damage the fabric.
Rick Rome, CEO and founder of WashClub, a laundry and dry cleaning service, mentioned that it is especially important to use cold water because high temperatures "can stretch and lengthen microfibers".
Cold water should be supplemented with a mild detergent. When using a washing machine, opt for the delicate cycle. The goal is to remove sand, dust, chlorine, sweat, sunscreen residue, or sea salt without causing any discolouration or stretching of the material.
The key aspect is drying. Rome noted that you should avoid using a tumble dryer altogether, as high temperatures can destroy the polymer chains that make up the material. It's also advised not to wring the swimsuit too much. Instead, hang it outdoors.
If there are sunscreen or other stains on the fabric, the expert recommends soaking it in oxygen powder for at least two hours.
Earlier, OBOZREVATEL told you which are the best swimsuit models that correct the figure and emphasise the waist.
Subscribe to OBOZREVATEL's Telegram and Viber channels to keep up with the latest developments.