Trending:
How to wash a shower curtain to stop it from yellowing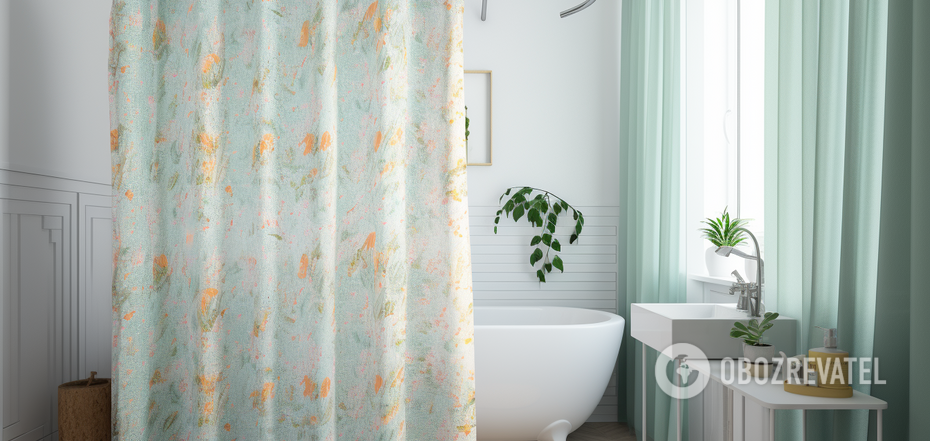 Mold can grow on the curtain, so you need to take care of it regularly
Shower curtains need regular maintenance because they are used in a constantly humid environment and are prone to mold and mildew. In addition, studies have shown that they have more bacteria than toilet seats. However, frequent washing causes the yellowing of the curtain material.
OBOZREVATEL learned a few lifehacks that allow you to keep the curtain clean. In addition, reduce the regularity of its washing.
Cleaning experts are convinced that you need to clean the shower curtain as often as possible. Although it looks unsoiled, it is a convenient breeding ground for mold and bacteria. Regular cleaning will require simple and affordable substances like vinegar and baking soda.
Hand washing
Plastic curtains are best not sent to the machine, as this can damage them. They are better suited to hand care. You will need baking soda, a microfiber cloth and a few minutes.
To wash a plastic curtain, you need to remove it from the rod and soak it in a warm solution of soda. It is enough to add a quarter cup of the remedy and a tablespoon of your usual laundry detergent, stirring everything until the foam appears. Put the curtain in and rinse vigorously, wiping with a microfiber cloth.
It should be then rinsed with clean water, smoothed and allowed to dry completely in the air.
Spray for daily care
It is advised to care for the curtain even in between cleaning. Use a disinfectant spray, which can be made with your own hands.
To mix the cleaning liquid, fill a spray bottle with warm water, add a tablespoon of detergent and the juice of half a lemon or half a cup of white vinegar. Shake the bottle thoroughly to mix all the ingredients.
This spray should be used to treat the curtain. It can be applied to both dry and wet items. The product should be left to act for 5-10 minutes. Wipe the object with a dry sponge. Finally, the curtain is rinsed with hot water from the shower and spread out so that it dries well.
Which products to avoid
Experts say that the choice of detergent depends on how long the curtain will last and how well it will keep its appearance. Synthetic items should be washed with mild detergents.
Chlorine bleach can cause yellowing and shorten the life of the curtain by corroding its top layer. Other means with antimicrobial properties can also be too aggressive.
Earlier OBOZREVATEL shared how to clean the toilet bowl with the help of improvised means.
Subscribe to OBOZREVATEL channels on Telegram and Viber to be aware of the latest events.