Trending:
How to warm up in the apartment if there is no heating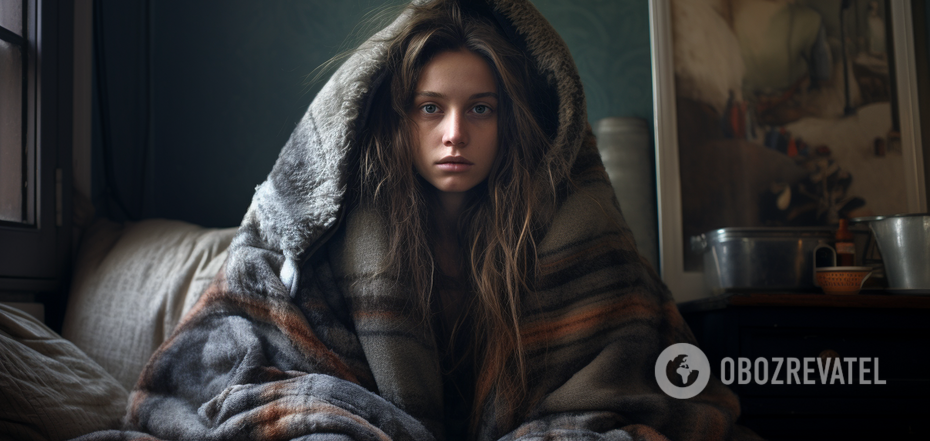 How to keep warm if the apartment is cold
It seemed like only yesterday that we were almost fainting from the abnormal summer heat, but autumn, as usual, crept up on us unnoticed. According to all forecasts, Ukrainians will face another hard winter. The Russians have not abandoned their intention to shell critical infrastructure, so we may have to go through power, water and heat cuts again.
OBOZREVATEL has simple but very effective tips to help keep you warm while the heating is off. It is important to stock up on blankets and heating pads in advance.
Tip 1
First of all, take care of thermoregulation. Avoid synthetic clothes and follow the rule of layering. Put on underwear, thermal underwear, pants, a sweater and a warm robe. Keep your feet warm, and don't forget about high-quality woolen socks. Buy a warm blanket and a rug.
Tip 2
Autumn would be quite a romantic season if it weren't so cold. However, a cup of your favorite drink will make you feel cozy. Enjoy the simple moments: cover yourself with a blanket, take a cup of tea, coffee or cocoa and turn on an interesting movie. If there is no light, you can read a book. By the way, the steam from the kettle while boiling also raises the temperature in the house.
Tip 3
Physical activity is useful not only for keeping fit. 10-15 minutes of regular exercise will warm up your muscles and you won't feel cold anymore. The main thing is to force yourself to get out from under the warm blanket and start working out.
Tip 4
In pre-war times, we thought that heating pads had long outlived their usefulness. As it turned out, they have not. When there is a power outage, there is no better way to keep warm in bed. You can use an ordinary plastic bottle as a hot water bottle by filling it with hot water. This is an effective way to warm up a cold bed before going to bed.
Tip 5
Let's talk about coziness again. Cover the floor in your home with high-quality carpets. This will reduce heat loss and your feet will not freeze from the cold parquet. Take this opportunity to update your interior and be sure to lay carpets in the bedroom and other rooms where you spend most of your time.
Preparing your home for winter in advance is the most important thing. In the case of wooden frames, gaps are the main cause of heat loss, but improper adjustment of plastic window locks can cause drafts as well. To know how to install a heat-reflective film on windows and what are the life hacks for the simplest insulation, read the article.
Earlier OBOZREVATEL shared how to insulate windows, doors and houses.
Subscribe to OBOZREVATEL on Telegram and Viber to keep up with the latest news.