Trending:
How to untangle a necklace: a quick solution to a common problem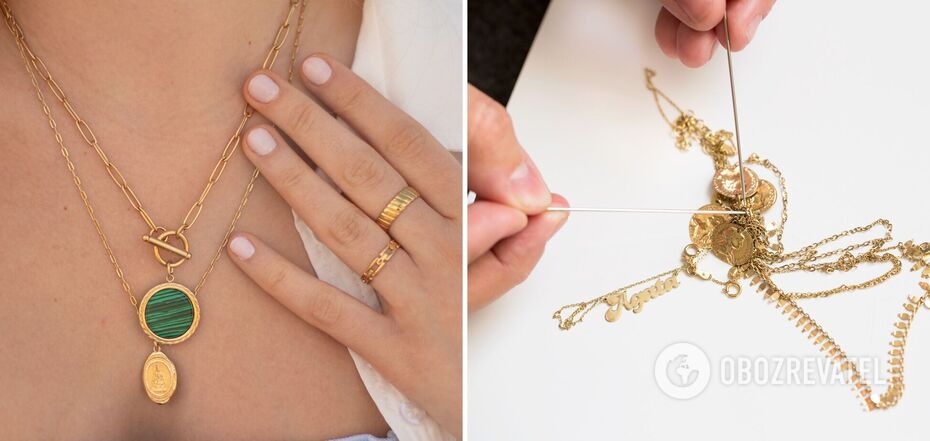 Regular butter will help untangle the necklace
Necklaces are one of the most popular types of jewelry, but they are not easy to store. They are often tangled when folded and can break when you try to untie the knot. Not every workshop will repair such jewelry, especially when it comes to very thin chains.
Fortunately, there is a simple life hack, which will help to untangle the chain. OBOZREVATEL learned the details.
The main rule when unraveling chains is not to pull them in any case. This will make the knot tighter and aggravate the problem. If the tangled section is relaxed, it is better to push the chain inside the knot and pull the tangled end out through the same loop in which it fell. This should also be done carefully and without unnecessary effort.
If the knot has managed to tighten, a substance that lubricates the chain can help. For example, it can be butter. The greasy substance should be applied to the tangled area and gently warmed with fingers so that the butter melts and lubricates the knot from the outside and inside. Take a small amount of oil, as the chain should be covered with grease lightly.
The next step is to untie the knot. To do this, you should use a hairpin or a needle, which hooks up the tangled fragment. Pulling the chain by force is not allowed. It is better to find the place from which the knot can be pulled best to loosen it.
When the knot is untied, the chain should be cleaned of residual fat. This can be done with an ordinary soap solution and alcohol.
Earlier OBOZREVATEL shared how to clean silver jewelry to return their shine without stretching.
Subscribe to OBOZREVATEL's channels in Telegram, Viber and Threads to keep up to date.