Trending:
How to turn any soil into chernozem: just one plant can help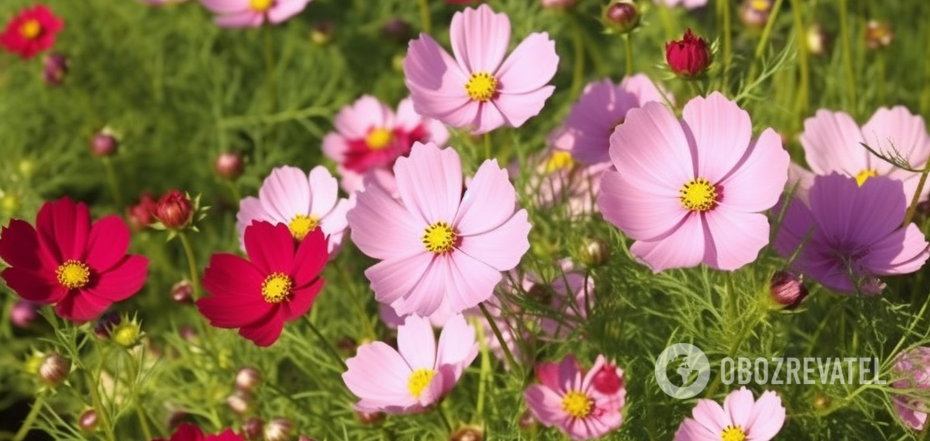 How to turn any soil into chernozem: just one plant can help
Soil fertility is most strongly influenced by its upper organic-rich part, the humus. And the composition of humus, in turn, depends on the plants that grow on it and then decompose in it, as well as the organisms that live in it. Therefore, it can be improved by planting certain plants that can enrich it with organic matter and nutrients.
Plants that have the best effect on humus are called green manure. And experienced gardeners say that one of the most effective green manure is a very beautiful flower that can be grown to decorate the garden. OBOZ.UA tells you about this flower.
Cosmea as a green manure
This flower is a fragile cosmea. Its undoubted advantage is that it is resistant to diseases and pests, and therefore will not infect other plants. Also, soil microorganisms like cosmea, which make magnesium and phosphorus more available - they reproduce well on the remains of the flower. You can also sow it in November. The flower will have time to sprout, which will nourish the soil over the winter.
The main thing is to sow cosmea before the first snow. For this purpose, small holes are made in the beds, and 2-4 seeds are placed in each of them. Soon the flower will germinate, but it will not have time to bloom and sow, so it will not kill useful crops in the spring. Instead, it will enrich the soil with biomass and nutrients over the winter.
Other life hacks for soil enrichment
However, to improve soil structure, you need to take care of more than just humus. Adding sand to clay soil will help make it more fertile. This will make the soil more drained and allow for better water and air permeability.
Coal dust from lignite, peat, husks from seeds, straw, sawdust, and fallen leaves, provided they are healthy, also improve the structure of the soil. If you apply such organic matter in the fall, you don't even have to dig it into the ground. Over the winter, it will penetrate the soil on its own, including with the help of water, and in the spring, worms and soil microorganisms will help speed up this process.
Earlier, OBOZ.UA told you how to properly dig a garden in the fall to get the most out of it.
Subscribe to the OBOZ.UA channels in Telegram and Viber to keep up with the latest events.