Trending:
How to take care of the garden before the end of October to have bountiful harvest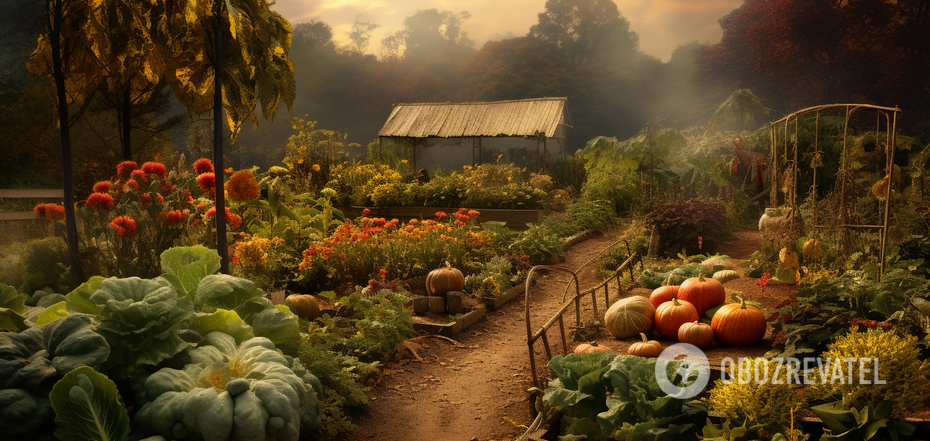 How to care for your garden in the fall
October is the home stretch of the gardening season. This is the time when the main work is completed and when pruning and preparing plants for wintering is done. The next season's harvest also depends on the proper preparation of trees and plants for the cold.
Gardeners should do a lot of things before the first frost. OBOZ.UA tells you how to prepare plants for winter and what should be done in the garden and the garden bed by the end of autumn.
The last harvest
The last crop of apples and pears of late varieties is harvested in October. Fruits intended for long-term storage should never be beaten with a stick. It is best to use a special tool or even make one yourself by gluing the neck of a cut-off plastic bottle to a pole (this reduces the risk of damage).
Planting trees and shrubs
The planting period depends on weather conditions and rainfall. There are general rules that can vary depending on temperature: planting in the northern latitudes is completed by the 10th of October, while it is done by October 15 in the middle zone. However, planting can be carried out in November in the southern regions.
The following trees and shrubs can be planted in October:
mountain ash
cherry plum
cherry
pear
mulberry
apple tree
some varieties of plums.
Planting apricot, almond, peach, and cherry trees is best postponed until next spring.
Pruning
Pruning is primarily a set of sanitary measures during which trees are rid of dry, damaged branches. If weather forecasters predict a cold winter, experienced gardeners advise to postpone pruning of some trees until spring. Otherwise, there is a risk that exposed sections may crack and begin to freeze.
No more than 25% of the crown should be removed at a time. If the tree is sick and needs a thorough radical pruning, it is better to do it in the spring.
Fall fertilizing
Experts recommend adding manure composted with mineral phosphorus fertilizer to the beds in the fall. There should be 3-5 kg of fertilizer per 1 square meter of the trunk circle.
Dig trenches around the tree, but a little further beyond the periphery of the crown. You can add 2 tbsp. l superphosphate and 1 tbsp. l potassium sulfate per 1 sq. m under young trees. If you need to feed old trees that are more than 10 years old, double the dose.
Green manure plants
Green manure has three main functions:
saturate the soil with nitrogen
help suppress weed growth
serve as effective prevention of various diseases
Green manure also help to retain snow and moisture in the garden. Frost-resistant crops, such as legumes, cereals, or mustard, are used for fall sowing.
Earlier, OBOZ.UA spoke about the pros and cons of fall garden digging.
Subscribe to OBOZ.UA on Telegram and Viber to keep up with the latest events.