Trending:
How to store and stock up water in case of a water cutoff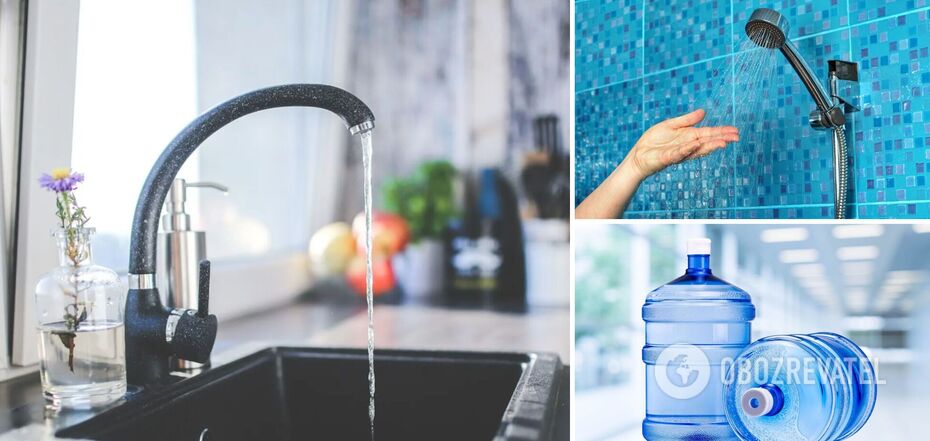 How to save water
The war is ongoing and we are facing a difficult autumn and winter period ahead. We all remember the situation with last year's blackouts when there could be no electricity, heating or water. The occupiers continue shelling, and the Ukrainian authorities express a high probability that the Russians will resume attacks on critical infrastructure.
Some towns have been without drinking water for a long time after the Russians blew up the Kakhovka dam. It is necessary to prepare for a difficult winter in advance. Read OBOZREVATEL's article on how to do it correctly.
How to save water
Washing dishes
You are about to wash the dishes and turn on the water. Water flows from the tap while you pour detergent on a sponge, put the plates to dry, and sort the cutlery. A much more economical way to do this is to heat water in a large container and wash the dishes in it. Then rinse the plates and cutlery in clean water. Alternatively, you can close the sink with a stopper, pour water in the sink and wash the dishes.
A life hack for the laziest: you can simply cover the plate with a film before eating. It's inconvenient but you won't have to wash the dishes at all.
Washing
Run the machine when it is fully loaded with laundry only. Do not turn on the high temperature. According to experts, the best temperature for washing bedding is between 30 and 40 degrees. The popular bio-powders contain special enzymes that lose their effect at temperatures above 30 °C. Do not add too much powder to the container. Excessive amounts of detergent can also damage the fibers, causing the laundry to wear out faster.
Shower, bathtub and wastewater recycling system
Purchase a shower head that provides low water consumption. Be sure to inspect the pipes and repair leaking taps.
If you can afford it, install a wastewater recycling system that provides tangible water savings.
Cooking
You can cook several dishes in one pot at the same time. For example, when cooking porridge in a saucepan, you can put a colander on top and steam dumplings. Or, when cooking vegetables for a salad like Olivier, for example, put potatoes, carrots, and eggs in one pot and take them out when ready.
The water you use to wash store-bought fruits and vegetables can be used to water your plants.
How to store water
The war taught us that we should always have drinking water in reserve. It should be stored in a container with a lid and, most importantly, away from windows and direct sunlight or harmful bacteria and pathogens will begin to multiply in it.
The material of the container should be food-grade plastic, not ordinary plastic.
Water disinfection tablets are needed in case of force majeure. They can help out in a situation where drinking water has suddenly run out.
It is not recommended to use water in the household without purification, let alone drink it. Otherwise, acute infections are unavoidable. To know how to use water disinfection tablets, read the article.
Earlier, OBOZREVATEL reported that the first "pipe" for water delivery was completed in Ukraine after the Russian terrorist attack on the Kakhovka dam.
Subscribe to OBOZREVATEL on Telegram and Viber to stay up to date with the latest news.