Trending:
How to store pumpkins to keep them fresh until spring: tips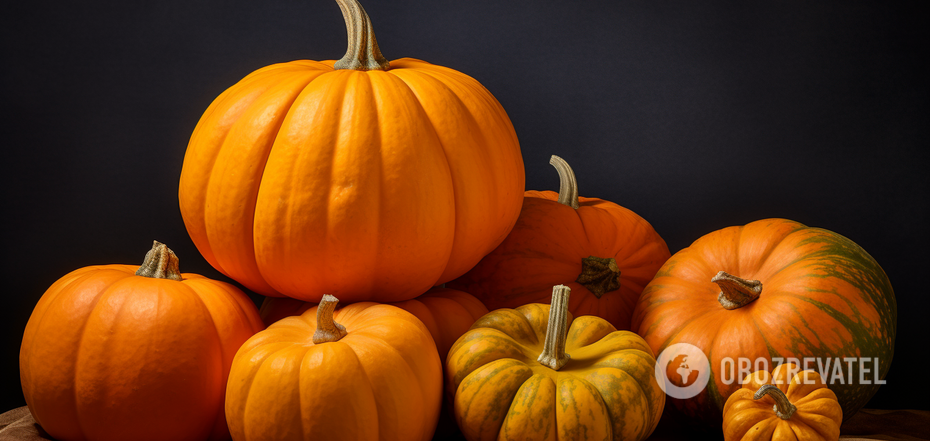 Harvesting pumpkins
Pumpkins are quite unpretentious and will last until spring if stored properly. The key is to ensure optimal conditions and humidity levels. Even if you correctly determine the ripeness of the pumpkins, but remove them from the garden too late, they will not last long in the cellar.
Some varieties are better suited for long-term storage and ripen right after harvest, while others should be used immediately for preparations such as juice, cereal, casseroles, or jam. Read the OBOZREVATEL article on how to store pumpkins so that they don't spoil quickly.
The optimal temperature
Immediately after harvesting, place the pumpkins in a room with a temperature of 25-28°C and 85% humidity. In such conditions, the pumpkins will ripen properly and the skin will become denser.
After a week, the pumpkins can be moved to a permanent wintering place. It is important that the temperature is between 4 and 9°C and the humidity is 70%. It is best to store the fruit in a pantry or cellar. If you live in an apartment, you can place the pumpkins on the loggia.
Which pumpkins are suitable for storage
For long-term storage, choose large and medium-sized fruits. Small ones are best used immediately for cooking.
Carefully select pumpkins that are free of rot and damage. Minor damage to the skin can be treated with a 3% solution of potassium permanganate to eliminate the risk of further decay.
It is important that the fruits are not too dense, but at a small distance from each other. Experienced gardeners advise putting straw litter under them.
By the way, earlier OBOZREVATEL advised to harvest the crop before the first frost. If the cold snap comes unexpectedly, cover the fruit with agrofibre. Ripe pumpkins can withstand the first frost, but semi-ripe ones are unlikely to. Fruits with damaged skin will spoil very quickly. Read the article to find out when to pick pumpkins and why it is important to cut off the tail correctly.
OBOZREVATEL also told you what vegetables can ripen even without a stem.
Subscribe to OBOZREVATEL'sTelegram and Viber channels to keep up with the latest developments.