Trending:
How to store dug chrysanthemums: the easiest way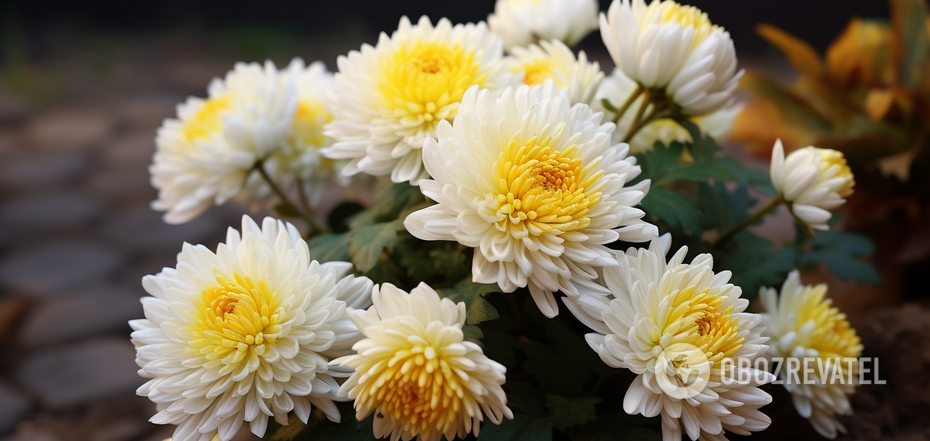 Blooming chrysanthemums
Chrysanthemums are usually associated with the farewell beauty of autumn. These are quite hardy flowers that will delight you with their blooms even in cold weather, when other garden flowers have long since faded.
Experienced gardeners warn that not all chrysanthemums are able to withstand frost in the open ground. Some varieties need to be dug up for the winter. OBOZ.UA tells you how to store dug flowers.
Which chrysanthemums need to be dug up
Winter frosts can negatively affect most varieties that are grown for cutting. If you do not take measures, large-flowered and Indian species can also die during prolonged cold weather.
How to dig up chrysanthemums
Digging up heat-loving varieties from the garden should be done carefully so as not to destroy the earthen coma.
After extracting the underground part of the chrysanthemums from the soil, gardeners advise putting them in a wooden box and covering the root system with sawdust.
Where to store chrysanthemums
The best place to store them is in a cool cellar or crawlspace.
You can't just put the flowers in storage to take them out in the spring. Every two weeks, you need to moisten the earthen lump - if you don't, the roots can dry out quickly.
By the way, chrysanthemums are recommended to be cultivated as ornamental plants. You can plant them in pots and keep them indoors in winter and on terraces or in the garden in summer.
Earlier, OBOZ.UA told you how to plant daffodils in the fall.
Subscribe to the OBOZ.UA channels in Telegram and Viber to keep up with the latest events.