Trending:
How to stop cats from chewing wires: a clever way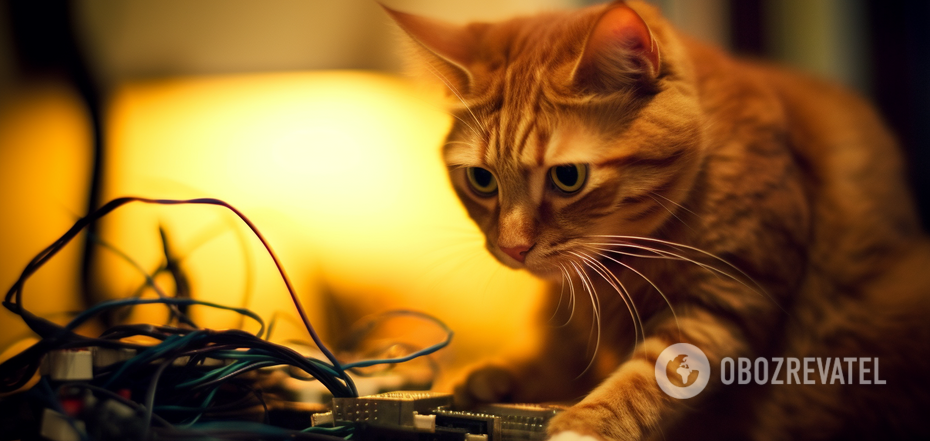 Cats often chew on appliance wires
Cats, especially small ones, love to chew on anything. And the unrestrained desire of pets to chew on wires from appliances must be promptly dealt with. It is important not only to protect appliances, but also to protect the animal from electric shock. An over chewed wire can cause a short circuit, causing a fire.
There are several ways to teach the cat to chew on the wire. OBOZREVATEL looked into how to protect the wire.
The first thing you should do is to wrap extra protection around the wires. Experts advise using corrugated pipe that protects wires from damage. The spiral-shaped pads, which can be purchased in stores, will also help.
Then, if possible, you should hide the wires behind the couch, dresser, and other large interior objects. Although cats usually sneak into even hard-to-reach places, so this method is unlikely to be effective.
So let's move on to the next best trick: double-sided tape. Cats hate duct tape, because they see it as a danger. So this tip will probably be the most effective, although not very practical - all the dirt and dust will stick to the double-sided tape.
By the way cats can smell up to 14 times better than humans because they have a separate olfactory department - the vomeronasal or Jacobson organ. And there is a list of smells that cats cannot tolerate. For example, you can rub orange or lemon essential oil on places near cables - citrus will definitely scare away the pets. What other aromas cats don't like is read in this article.
Earlier OBOZREVATEL told you how to determine the mood of a cat by its tail.
Subscribe to the channels of OBOZREVATEL in Telegram and Viber to keep up with the latest events.