Trending:
How to soften old "wooden" towels: the most effective remedies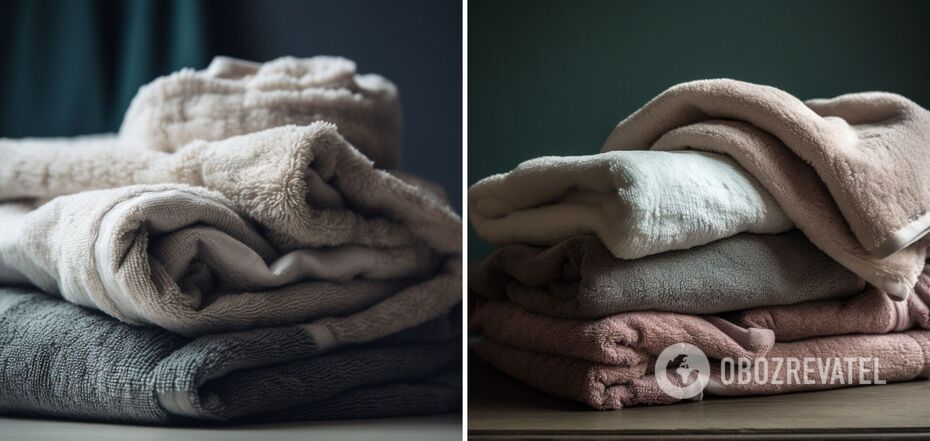 How to make towels less stiff
Favorite towels often lose their softness and become stiff, as if "wooden". Repeated washing cycles affect the condition of the pile, the fabric becomes unpleasant to the touch and can even scratch the skin.
Practical housewives are not in a hurry to throw away towels, because they can be reanimated with the help of simple and affordable ingredients. About the most effective means to soften old towels - read in the material OBOZREVATEL.
Lifehack with vinegar
The most "folk" conditioner that will help restore the softness of the fabric is white vinegar. It can even be added to the washing machine at the rinse stage. Specialists recommend two rinse cycles: the first with vinegar, and the second with just water or with the addition of store conditioner.
How salt can help
In second place in popularity is table or sea salt. Add 3 tablespoons of salt to the washing powder (in portions - for one washing cycle). Salt can also be used in hand washing at the rinse stage. Add 1 tablespoon of salt to 1 liter of water, and then rinse the towel once again in clean water.
Soda for washing
Soda will not only soften the fabric, but also remove the musty odor that often appears on towels. For one wash it is advised to take 60 g of soda. In addition, baking soda will effectively clean grease stains.
Conditioner for washing
And lastly, the easiest way. Put the towels in a container and fill them with store conditioner. The optimal amount is 250 ml. Leave the towels for 60 minutes and then wash them in the machine.
Earlier OBOZREVATEL told how to get rid of mold stains on home textiles.
Subscribe to OBOZREVATEL channels in Telegram and Viber to be aware of the latest events.