Trending:
How to smooth clothes without iron: homemade spray will help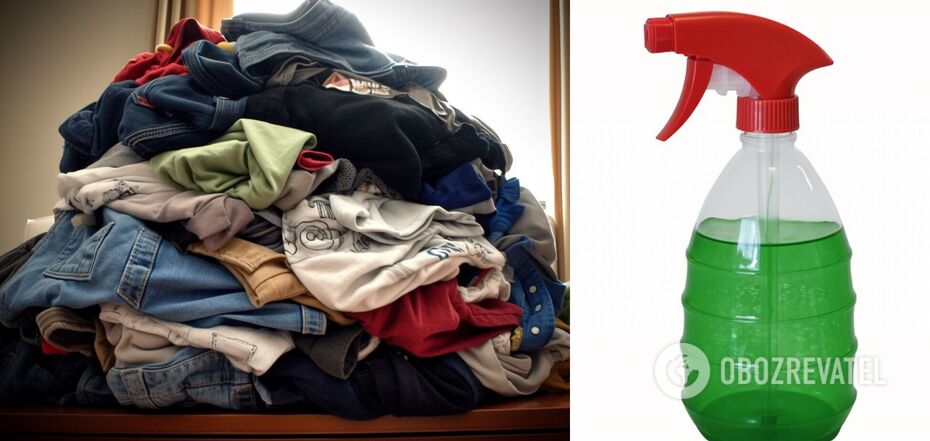 How to iron clothes without an iron
During washing, clothes will wrinkle and creases will appear, which are then difficult to iron out. The owner does not always have time to iron clothes, and some fabrics cannot be ironed at all.
However, you can prevent the appearance of unwanted folds on things with a mixture of simple ingredients. OBOZREVATEL will help you quickly cope with it.
To quickly make your clothes tidy, you will need vinegar and water. Mix the ingredients in a 1:3 ratio. Use a spray bottle and apply the solution all over your clothes. Wait a few minutes for it to dry in the fresh air or in a well-ventilated room.
If some creases still remain, you can prepare a more effective mixture. Mix a cup of vinegar with one teaspoon of alcohol and add one teaspoon of fabric softener. Stir everything thoroughly and spray on the desired areas. Wait for the clothes to dry and you can put them on.
You can also smooth your clothes with the steam from the shower. If you have just taken a bath and the room is still damp, you can hang the necessary clothes on a rack and place them in the bathroom.
Close all doors and windows so the moisture will not disappear quickly. Wait 15-20 minutes and the clothes will look neat and ironed.
Earlier OBOZREVATEL published quick methods without washing, which will help to remove traces from deodorant on clothes.
Subscribe to OBOZREVATELchannels in Telegram and Viber to keep up to date.