Trending:
How to shine mirrors and glass surfaces: expert advice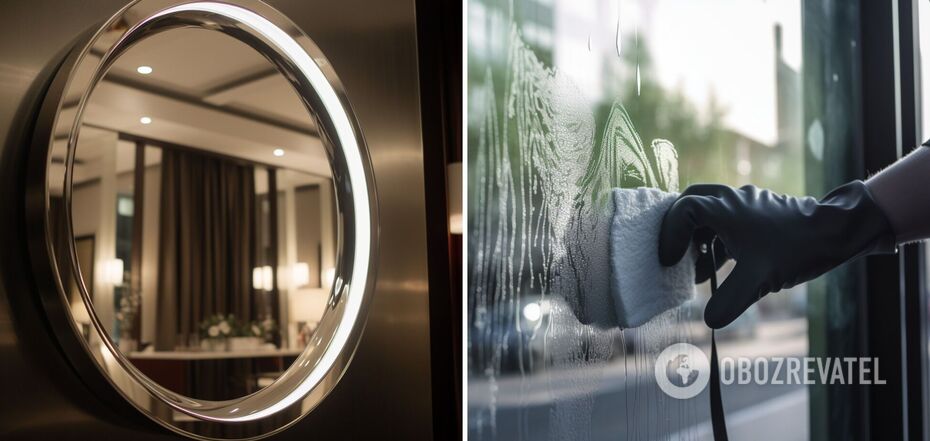 Different glass surfaces require different cleaning approaches
Caring for glass surfaces in your home can be very tedious. Especially if you try not to leave streaks. Mirrors and glass furniture are the most insidious in this sense.
But experts say that it is not necessary to spend hours and a lot of effort to get rid of streaks and fingerprints on surfaces. OBOZREVATEL has collected some effective life hacks for glass care.
Bathroom mirrors
Water splashes settle on them, leaving traces of lime, and these mirrors also take on splashes of cosmetics, such as toothpaste or shower gel. They also regularly fog up. To clean bathroom mirror surfaces well, start by removing excess dirt and marks with a glass cleaner. Then polish them well with a microfibre cloth, wiping the mirror in a circular motion.
Glass worktops
Sticky traces of grease and other contaminants inevitably accumulate on glass worktops. The best way to remove them is with isopropyl alcohol. It can be applied by spraying or using a cloth. Afterwards, wipe the surface with a microfibre cloth.
Kitchen aprons
A glass apron in the kitchen looks very stylish. But only while it is clean. Meanwhile, it collects a lot of splashes, which quickly dry to the surface. It is better to clean it with a spray of white vinegar and water mixed in equal proportions. Apply it to the glass, leave it on for a few minutes, and then wipe it off with a microfibre cloth.
Interior windows
Modern interiors are often decorated with glass partitions or doors - they serve as interior windows. This can significantly increase the amount of light in the room and make it lighter and more airy. But then suffer from visible stains on the glass. To avoid them, you can prepare a mixture of water and lemon juice. It will dissolve dirt typical of such surfaces and leave a pleasant aroma. Before and after using this product, the windows should be wiped with a microfibre cloth. First, it will remove all dust particles, and then polish the glass to a shine.
Screen glass
The screens of TVs, tablets, and phones also have their impact on the overall perception of the interior. But they are harder to clean than ordinary glass. The best way to clean them is to use plain water, which should be applied in a very small amount with a microfibre cloth. Wipe the screens with very light movements. It is better to carry out such cleaning as often as possible.
Earlier, OBOZREVATEL told how to properly care for glass doors in the shower.
Subscribe to OBOZREVATEL's Telegram, Viber and Threads channels to keep up with the latest developments.