Trending:
How to save rusty shovels and tools: miraculous ways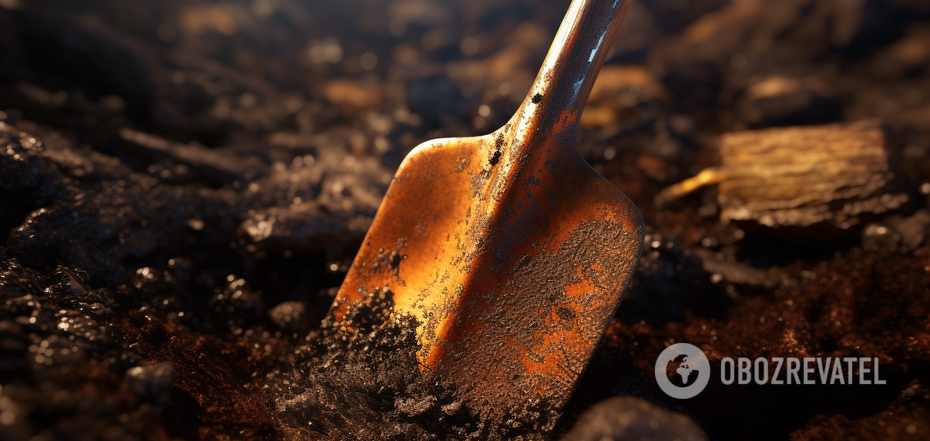 How to clean rusty shovels
Another gardening season is coming to an end. After harvesting the crops, organizing the beds, and preparing the perennials for wintering, old shovels and other garden tools are usually stored in a shed or in the attic.
However, improper storage of shovels, such as in a damp room, leads to rust. Read the OBOZREVATEL article on how to save rusty shovels and tools.
What products eat away at rust
Vinegar
The acidic properties of vinegar will quickly and effectively help you deal with rust. Just soak a shovel or other garden tool in vinegar for a few hours, and then remove the rust with a stiff sponge or brush.
Lemon juice
Lemon juice can be used alone or in combination with salt. Mix the juice and salt until a paste is formed and rub it on the rusty surfaces.
How to clean a shovel from rust
When choosing a rust cleaner, pay attention to anti-corrosion solutions containing phosphoric or orthophosphoric acid.
Method 1
You'll need a metal brush and coarse sandpaper to sand the surface of the shovel. However, this method is only suitable for light to moderate rust.
Method 2
Dipping in an anti-corrosion liquid will help remove rust with a brush or sponge. The only drawback is the duration: the shovel needs to stay in the solution for several hours or even overnight.
Method 3
Experts also advise trying sandblasting. This method requires special equipment.
Method 4
There are chemical rust converters - solutions or primers designed to be applied to the surface of shovels to convert rust into a protective chemical barrier.
Earlier, OBOZREVATEL told you what you can plant in the garden in September to get a harvest before the first frost.
Subscribe to OBOZREVATEL's Telegram and Viber channels to keep up with the latest developments.