Trending:
How to save photos and videos from Instagram without being banned: instructions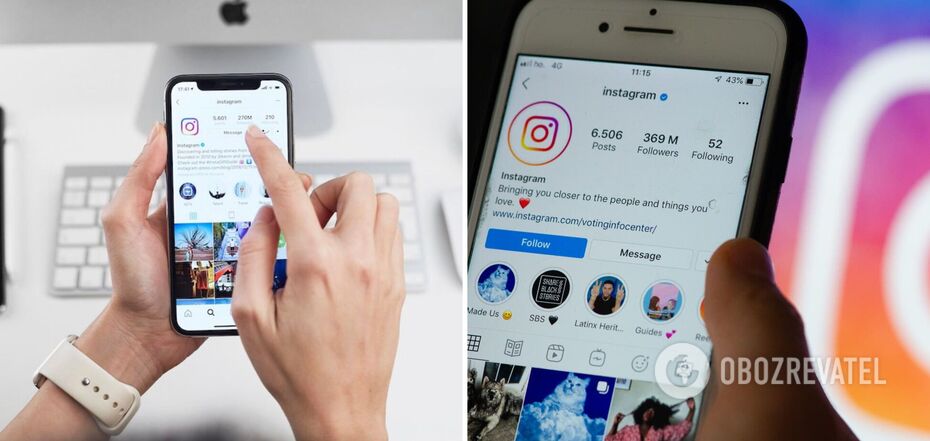 How to save content from Instagram
Instagram is one of the most popular social media platforms for sharing photos and short videos. However, few people know how to download content from someone else's profile to their smartphone.
The application allows you to freely store only your own content, and other people's photos and videos, quite logically, belong to the authors of publications, except for those covered by the free Creative Commons CC0 and CC BY licences. OBOZREVATEL figured out what are the ways to download photos and videos from Instagram to your smartphone.
Method 1: Telegram
Telegram messenger will help you save content from Instagram. The simplest tip is to send a message with a photo to the messenger.
It is very easy to do. Open the photo and click the ellipsis at the top. Find the Copy Link option and send it to Telegram. You can do this in your chat.
Then go to Telegram, open the sent content and select "Save to gallery" in the menu.
There is a disadvantage to this type of upload. The quality of the photo will be lower than in the original.
Method 2: Telegram bots
Telegram has specialised bots that can help you save any information from Instagram on your smartphone - post text, photos, videos. You need to enter @instasavegrambot or @Instatube_bot in the search.
Once you find the bot you want, click Start. Go to the Instagram app and send the bot a link to the content you want to save. And that's it - the bot will quickly send you the photo or video you need.
Method 3: Custom apps
The Play Store has several apps for saving content from Instagram. These are, for example, QuickSave, FastSave, Downloader for Instagram.
These apps are very easy to use. You just need to copy the necessary link from Instagram into them. The apps will quickly download content from Instagram to your smartphone.
Subscribe to OBOZREVATEL's Telegram and Viber channels to keep up with the latest news.