Trending:
How to save petunia that began to dry: home fertilizer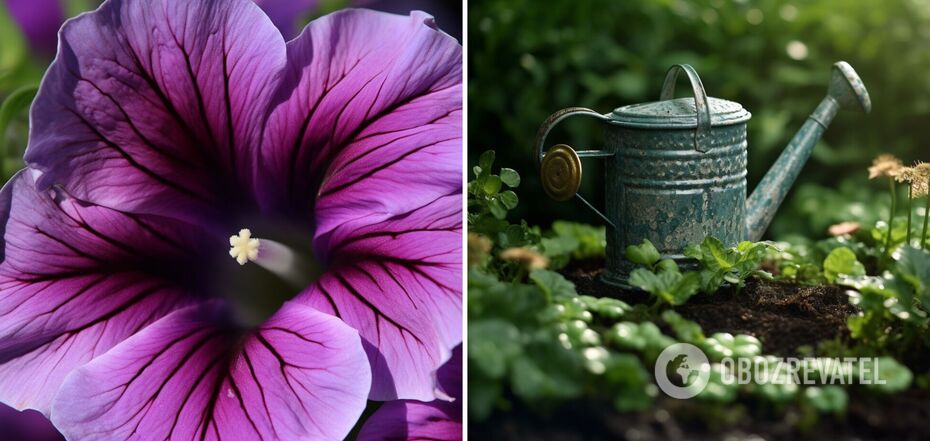 Petunia that started to wither most likely needs a potassium application
Petunia is gaining popularity year after year among home floriculture enthusiasts. Its cup-shaped flowers delight with an incredible variety of shades from bright to pastel, from glossy white to velvet black. Flower petals can be monochrome, spotted, striped and have beautiful shade transitions. It also grows well in boxes, cachepots and the open ground, so it will decorate a window, balcony or flowerbed. Another positive sife of petunia is that it is quite unpretentious in care. However, sometimes it can still dry out.
Fortunately, saving it is not very difficult. OBOZREVATEL studied what means to use to do it quickly and effectively.
Why petunias wither
Premature wilting of the flowers of the plant and withered leaves may indicate a deficiency of nutrients in the soil. First of all, potassium is vital. Optimal assimilation and utilization of nitrogen, which is responsible for the growth and flowering of petunia, depends on this element. The lack of potassium also leads to a violation of the water regime of the plant, which makes it more sluggish and defenseless against such factors as temperature differences.
When you notice warning signs that your petunia is weakening, provide it with potassium. However, bet on natural solutions, so the plant could assimilate nutrients more easily.
Homemade fertilizer for resuscitating petunias
Banana peels contain a lot of potassium. It is also rich in phosphorus, which is necessary for lush flowering. Thus, after eating the fruit itself, do not throw away the peel, prepare a petunia fertilizer.
Wash it well, cut into small pieces, put it in a jar and pour a liter of warm water. Leave it to infuse for two days. Strain the resulting liquid and dilute with water in a ratio of 1:1. Pour this remedy on petunias and they should quickly come to their senses and bloom with renewed vigor.
You can also spray the flower with this liquid if aphids have appeared. The solution should be applied in the evening. By morning, the number of pests should be greatly reduced. The treatment can be repeated every few days until the problem disappears.
Powder fertilizer for petunias
You can prepare a nutrient powder for the flower from the banana peel as well. The process of making it is a little more complicated, but such fertilizer will contain a greater concentration of nutrients.
Rinse the banana peel well and dry it in the sun or in the oven. When the moisture comes out of it, grind it in a coffee grinder or mortar. As a result, a light powder should be formed.
Use 1-2 teaspoons per pot. The powder is evenly scattered over the surface of the earth and mixed with its top layer. Such a fertilizer can be made once every 3-4 weeks. Similarly, the fertilizer is applied in the open ground.
Earlier OBOZREVATEL shared what you need to feed garden flowers in the summer with so that they lush and bloom long.
Subscribe to OBOZREVATEL channels in Telegram, Viber and Threads to be aware of the latest events.