Trending:
How to return white colour to socks: a simple life hack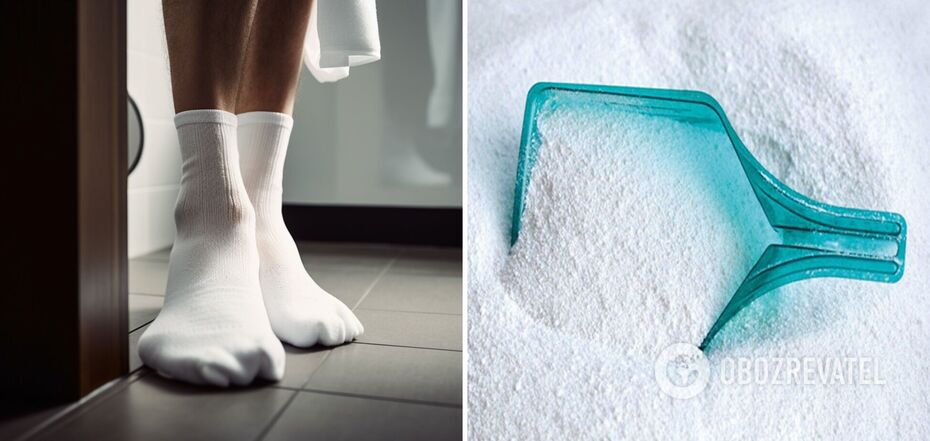 Soda ash can restore whiteness even to very dirty socks.
Most likely, you have a pair of socks like this too - they used to be white, but now you can't say that anymore, so they are lying in a drawer waiting for a miracle. White knitwear quickly collects street dust and other contaminants in its fibres and becomes covered with stains and grey patches. But is a miracle possible to restore its whiteness?
Cleaning and laundry enthusiasts say it is. According to the Express, members of a Facebook group shared a very effective life hack. It does not involve the use of bleach, which can damage the fabric and make it less resistant to wear.
Many commenters recommended using soda ash. It does not have a bleaching effect on its own, but it penetrates the fibres better than conventional detergents and rinses things deeper to remove dirt.
Users have suggested several ways to use soda ash:
soak socks or other dirty things in a solution of the product overnight, and then wash them in the usual way;
manually wash clothes with the substance, and only then send them to the machine;
to remove stubborn stains, soak the contaminated items in cold water, then wash by hand with soda crystals and machine wash;
add the product to the washing powder and select the mode with the highest temperature.
Soda ash is known to help not only remove stubborn and difficult stains. It also protects the washing machine from limescale and even cleans it from limescale.
In addition, the powdered substance can be used to remove various types of dirt in the home. It is natural and environmentally friendly and will do a good job of cleaning not only faded white socks.
Earlier, OBOZREVATEL told what home remedy can be used to restore softness to towels.
Subscribe to OBOZREVATEL's Telegram and Viber channels to keep up with the latest news.