Trending:
How to restore the shine of aluminum cookware: a simple trick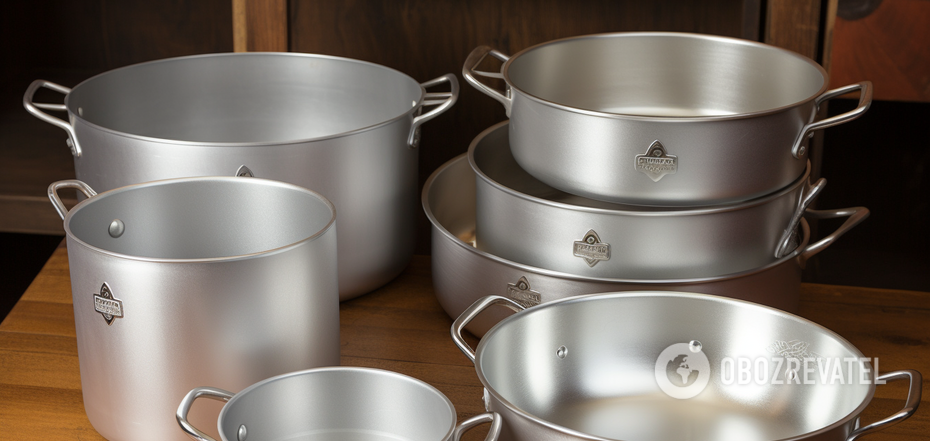 Aluminum cookware
Aluminum cookware is practical and inexpensive, it has a high thermal conductivity, so it heats up quickly and cools down quickly. Most often aluminum pots are used for heating milk, boiling eggs, cooking porridge, etc.
This cookware is not prone to rust, and all thanks to a thin oxide film that appears on the surface of pots, plates and spoons. Thus, the food does not come into contact with the metal. However, there is one significant drawback - aluminum cookware quickly tarnishes. How to clean pots to shine, figured out OBOZREVATEL.
It is a good thermal conductivity is the reason that the food sticks to the walls of aluminum cookware. If you do not keep track of cooking time, you can even spoil the dish. It takes a long time to remove burnt residues.
Aggressive chemical detergents damage the surface of dishes and destroy the protective film.
Experts recommend using a natural and effective tiphack. You need only one ingredient - apple peel.
Step 1. Peel a few apples from the skin.
Step 2 Put the apple peels in a dirty pot, pour water on it and put it on the stove.
Step 3: Bring the water with the skins to the boil. After boiling, turn off the stove and infuse the solution for 30 minutes.
Step 4. After the pot has cooled completely, wash it using an ordinary dish detergent, rinse and dry it.
A nice bonus will be the rich fruity aroma.
The secret of the method is in the acid, which, released from the peel, dissolves limescale, dirt and stains, returning the aluminum surface shine.
Earlier OBOZREVATEL told you how to correctly arrange the dishes in the dishwasher for the most effective and economical washing.
Subscribe to OBOZREVATEL channels on Telegram and Viber to keep up with the latest news.