Trending:
How to remove white scale in the bathroom: two ingredients will help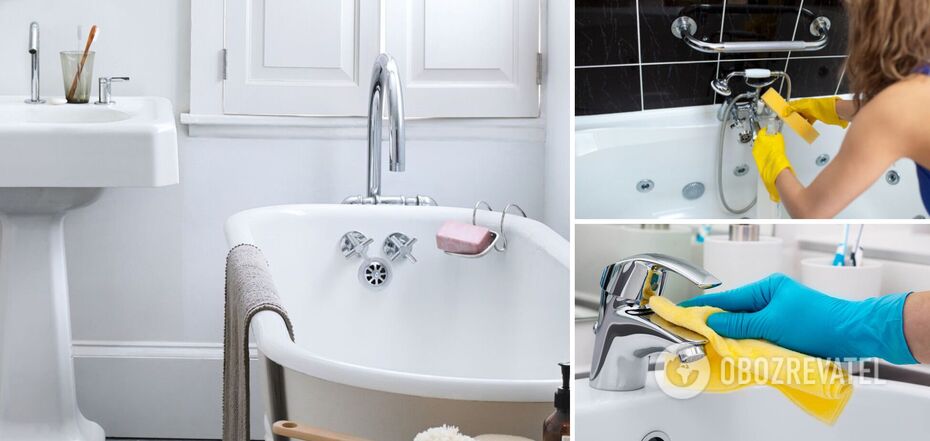 How to remove plaque in the bathroom
Lime scale is a very common phenomenon, and it is difficult to get rid of it with conventional means. The fact is that the water in the pipes contains mineral salts, which, settling on the surfaces, form a thick layer of deposits.
Store cleaners often do not give the desired result. About a simple and affordable lyphhack, which will help to get rid of white scale in the bathroom, read in the material OBOZREVATEL.
Lime scale has an alkaline base, so you should act on it with acids. Be sure to use thick rubber gloves before the process of cleaning, otherwise you can damage the skin.
The recipe is very simple. Take baking soda and the juice of a lemon. Citric acid will not only get rid of plaque from the bathtub, but also make the surface shiny.
You need to prepare a mixture by mixing baking soda and lemon juice. Note that you should not make the mixture too liquid, it should have the consistency of "porridge". Using a sponge, apply the remedy to the surfaces where plaque has accumulated. You can treat the bathtub, shower stall, shower, faucet, etc.
If too much white plaque has collected, leave the mixture for about 15 minutes, giving the acid time to work. Then rinse off the remaining plaque with a damp sponge and water. The procedure can be repeated several times.
Experts do not recommend using abrasive powders when cleaning the bathtub.
Earlier OBOZREVATEL told how to return the bathtub white color and do not damage the enamel.
Subscribe to OBOZREVATEL channels in Telegram and Viber to be aware of the latest events.