Trending:
How to remove stubborn stains from carpets: tips for different situations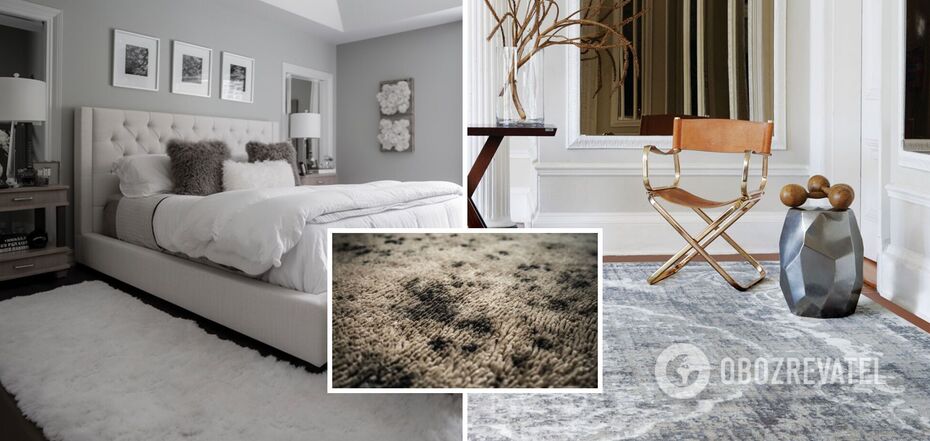 Life hacks for carpet cleaning
An effective carpet cleaner can be made at home using readily available ingredients. The main rule of cleaning is to be quick: it is easier to remove a stain before it is absorbed deep into the fibres.
Excess liquid should be blotted with a clean cloth, moving from the outer edge of the stain to the centre. Sante Plus experts told us how to get rid of wine, wax, coffee, chocolate, chewing gum stains and how to prepare a universal detergent.
Universal detergent
To make your own homemade stain remover, mix 1 teaspoon of dishwashing detergent in 1 litre of warm water.
Then add 1/4 teaspoon of white vinegar and gently apply this solution to the stain. Always test the colour fastness on an inconspicuous area of the carpet.
Wait 10 minutes, wipe off any residue with a clean sponge, rinse with cold water and go over again with a dry cloth.
How to remove blood stains
It's best not to use warm water to clean blood stains from carpets, as it can soak into the fibres more strongly. Instead, apply cold water or a soda solution and blot with a clean cloth. Repeat until the stains are gone.
How to remove wax
Rub fresh drops with an ice pack until the wax hardens. Then carefully remove the wax and vacuum the carpet. You can also dampen a white cloth with a little alcohol and wipe the stain.
Recipe for chocolate stains
Use a dull knife to scrape off as much chocolate as possible. If it has melted like candle wax, place a plastic bag with ice cubes over the stains. Carefully pick up the hardened pieces.
Another recipe: mix a quarter teaspoon of detergent with 1 cup of warm water and apply the solution to the stains with a clean cloth. Then leave it on for five minutes and blot thoroughly until the stain disappears.
Life hack for coffee or tea stains
To remove coffee or tea stains, mix 2 tablespoons of hydrogen peroxide with 1 tablespoon of soap and water. Leave it on the carpet for a few seconds, rinse with water and pat dry.
How to get rid of greasy stains (oil, sauce, etc.)
Baking soda is an effective way to remove grease stains. This versatile product has already proven itself for carpet cleaning. Pour the baking soda directly onto the stains and leave it on for six hours. Vacuum the area and then blot the stain with an alcohol-soaked cloth. You can also use a dry carpet cleaner.
How to get rid of chewing gum
To get rid of chewing gum, use an ice pack. Then remove the chewing gum with a spoon or a dull knife and clean the fibres with a dry carpet solvent.
Life hacks for wine or fruit juice stains
Baking soda will help to remove stains from red or white wine, grape juice or any other coloured drink. Pour it on the stained areas, wait about an hour, and then blot with a clean microfibre cloth.
Earlier, OBOZREVATEL talked about the Turkish way of cleaning carpets.
Subscribe to OBOZREVATEL's Telegram and Viber channels to keep up with the latest news.