Trending:
How to remove stains on grout between tiles: a method that will solve the problem in 20 minutes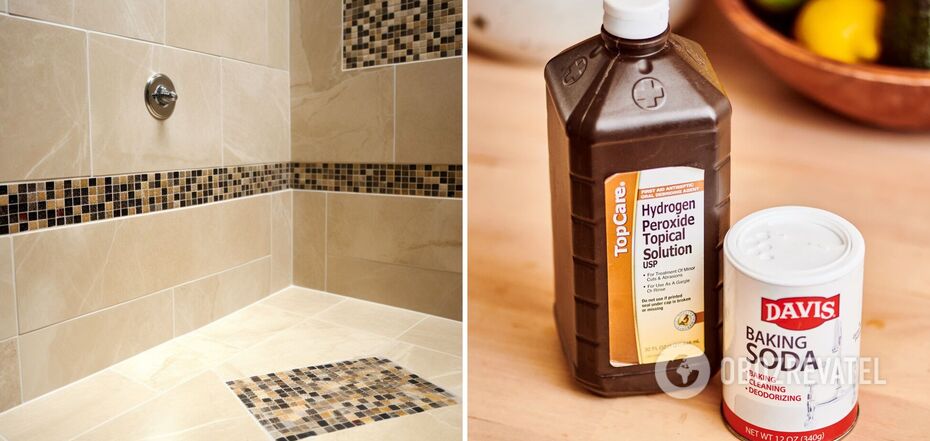 Baking soda and hydrogen peroxide will whiten and disinfect the seams.
Sloppy joints between tiles can spoil the impression of any bathroom interior. Meanwhile, stains and dirt from grout are not as easy to remove as we would like, because of its porous structure. But cleaning experts say that there is a way to cope with the cleaning of intertile joints without excessive effort.
Express asked several experts for their advice. And they named the best proven remedy.
Why do grout stains occur
The main causes of grout stains are fungus and mold. They give it an unpleasant color and are dangerous, because they spread spores in the air, which can get into the respiratory tract and on the skin and cause health problems.
Soap foam residues can also accumulate in the seams. These collect as an unpleasant yellowish plaque. Fortunately, it is possible to fight both contaminants. And it is not necessary to buy special products for this purpose, which can be too aggressive and even damage ceramic tiles.
Bleaching mixture for intertile joints
To prepare a mixture that will not only clean, but also whiten the seams, you will need a few simple ingredients that can be purchased in any store. For it, take:
baking soda - 1 cup;
hydrogen peroxide - one-third cup;
dishwashing liquid - 1 tablespoon.
Soda, which is the base of the cleaning mixture, acts as a natural deodorizer, bleach, and a mild disinfectant. It is also a mild abrasive that will not damage the tiles, even if rubbed vigorously.
Hydrogen peroxide is an effective, environmentally friendly and safe bleach with a strong disinfectant effect. It dissolves dirt and removes stains as well as chlorine, but it is not as toxic. It will also not harm colored grout. But it should not be used on polished marble.
To prepare the cleaner, mix all the ingredients until they turn into a homogeneous mass. Using a soft brush, apply the resulting mixture to the seams and leave it for 20 minutes so that it has time to deeply work. After that, rub the dirty areas with the brush again and wash off the residue.
Intertile joints should be well cleaned and lightened. And the fungi and bacteria that were in them should be killed by this treatment.
Earlier OBOZREVATEL told how to properly and safely wash laminate flooring.
Subscribe to OBOZREVATEL channels in Telegram, Viber and Threads to be aware of the latest events.