Trending:
How to remove scratches on wooden furniture: home remedies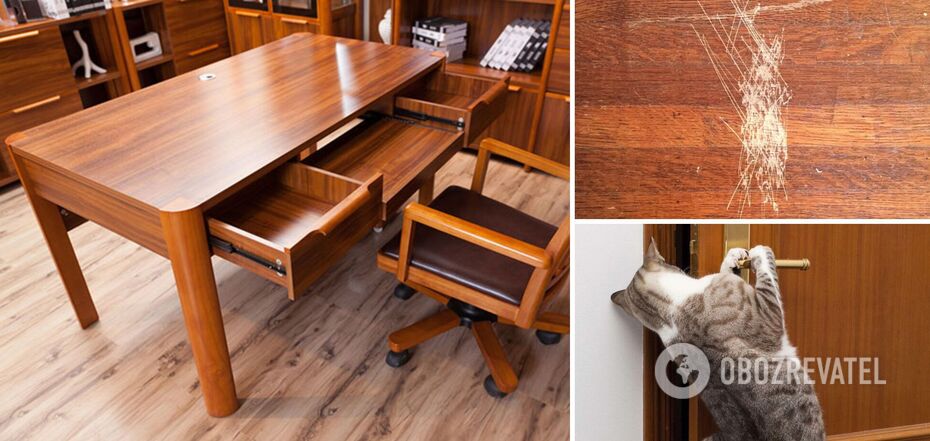 Scratches on wooden furniture
Wooden furniture is always a stylish and versatile solution for the interior. However, scratches often appear on the surfaces, which are difficult to hide.
With the help of two ingredients, you can simply and effectively solve this problem. More details about the leafhack were told by the publication Sante Plus.
Oil and vinegar will help to remove scratches on wooden surfaces. For this, you need to take 1 cup of wood oil and 1/2 cup of white vinegar.
In a container, mix the wood oil and white vinegar. Stir until you get a homogeneous texture. Then pour the composition into a sprayer and shake well.
Spray this solution onto a soft cloth and gently rub the scratched surface of the wooden furniture. Leave to dry for a few minutes and wipe the surface with a dry soft cloth to remove excess product.
Experts also suggest using olive oil and toothpaste to remove scratches on wood.
Mix toothpaste with olive oil or any other vegetable oil until a paste-like mixture is formed. Then wipe scratches on wooden furniture with this solution. Allow the mixture to work for a few minutes. After that, remove the product residue with a soft cloth.
A mixture of olive oil and white vinegar will perfectly eliminate scratches on lacquered furniture. Mix 180 ml of olive oil and 60 ml of white vinegar in a container. Moisten a microfiber cloth or other cloth in the mixture and wipe the damaged surface. Repeat if necessary to achieve the desired result.
This simple, affordable and eco-friendly method will help you preserve the natural beauty of your wooden furniture. Olive oil and white vinegar are natural ingredients that nourish the wood without damaging it. This lifehack is great for small scratches, for example, from animal claws. You can also use the mixture to freshen and shine other lacquered wooden furniture.
Previously, OBOZREVATEL told, than better to clean wooden furniture.
Subscribe to OBOZREVATEL channels in Telegram and Viber to keep up to date.