Trending:
How to remove pills on clothes without a machine: basic methods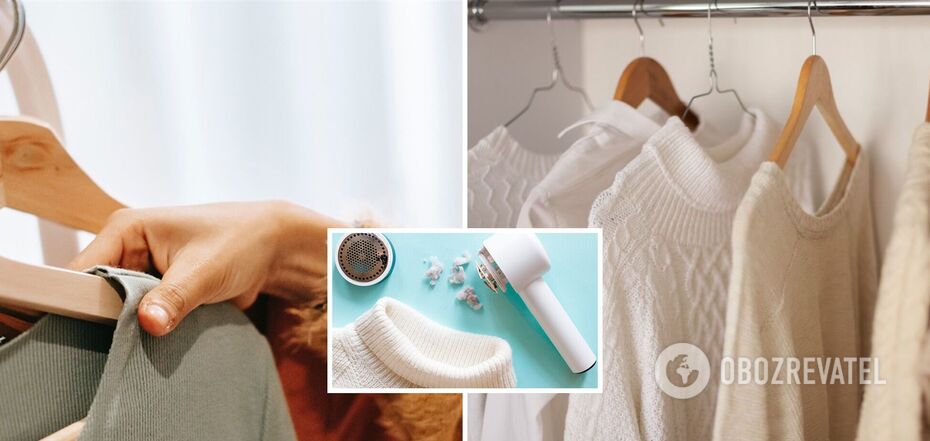 How to get rid of pills on clothes
Clothes made from natural fabrics, in addition to their undoubted advantages, have one significant disadvantage: they quickly form pills. Your favorite warm sweater will lose its attractive appearance if the fibers are frequently exposed to friction during wear.
Improper care of the fabrics also makes the situation worse. Read the OBOZ.UA article on how to remove pills on clothes without a machine.
How to get rid of pills on clothes
First of all, it is important to follow the instructions on the product label and wash the garment at the correct temperature in a gentle cycle.
Pills usually form on the elbows, armpits, cuffs, and other problem areas where the fibers deteriorate due to frequent friction.
If you don't have an anti-tangle machine, try using a regular disposable razor. Please note, however, that this method is quite dangerous and can damage the fabric. A razor is suitable for items with a low pile.
To remove small lint, use a piece of masking tape. Carefully stick it to the problem areas and then tear it off sharply, trying to capture as many lint as possible.
For clothes with short pile, fine-grit sandpaper is suitable.
But the easiest way to get rid of lint and restore the attractive look of your favorite sweater is to use a new dishwashing sponge. All you need to do is stretch the fabric and go over the pills with the abrasive side of the sponge.
A foot pumice stone will also come in handy. It should be used according to the technology described above: simply stretch the problem areas and gently rub the tangles with the pumice stone.
At the end, you can go through the fibers with a suede brush to help align the direction of the villi.
How to prevent the appearance of pills
Preventing a problem is always easier than dealing with its consequences. Simple preventive measures can help prevent the appearance of pills:
turn clothes inside out before washing;
follow the washing instructions on the label;
you can use fabric softener to soften the fabric;
soaking in hot water can deform the fabric and cause pilling;
do not rub stains to avoid damaging the fibers.
Earlier, OBOZ.UA told you what to do to avoid powder stains on things
Subscribe to the OBOZ.UA channels in Telegram and Viber to keep up with the latest events.