Trending:
How to remove marker stains from clothes, furniture and leather: a useful life hack for parents of schoolchildren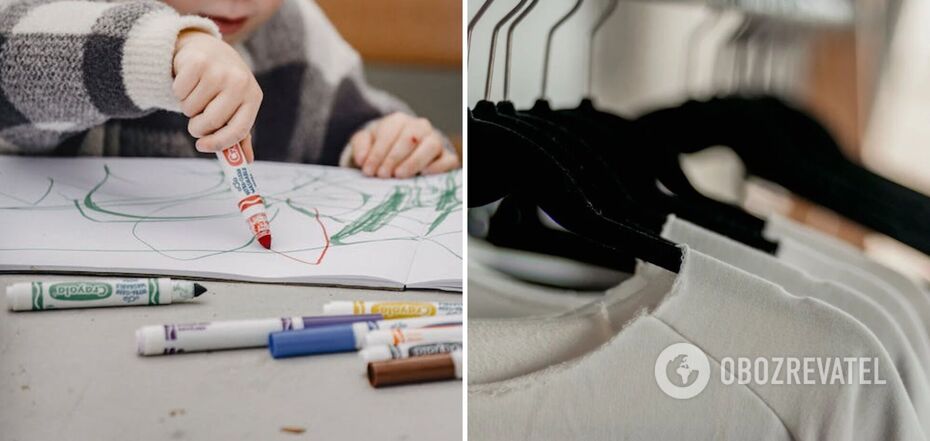 How to wash marker stains
Crayons and markers are one of the main supplies used by schoolchildren. Often, bright stains from them can be seen on clothes that are difficult to wash.
But OBOZREVATEL has found effective life hacks that will help get rid of stains on things, furniture, and skin. There are several ways that do not require expensive chemicals and do not take much time.
Clothes
Unwanted marker stains often appear on school uniforms and parents need to think about how to quickly clean things. All you need is a paper napkin and hand sanitizer or some liquid containing alcohol.
Moisten the napkin with an alcohol solution and gently wipe the stain on both sides of the fabric. The alcohol will help to loosen the persistent substances in the marker. Then wipe again, but with a dry cloth to absorb excess moisture.
You should see some ink stains on the towel. Continue these steps until the clothes are completely clean. Then wash the garment by hand or in a washing machine with the appropriate mode selected.
Furniture
If you see stains on fabric furniture, you can use the same method with an alcohol solution and a paper napkin. A clear nail polish will also work - this product has more chemical compounds in its composition and will help remove stubborn stains. Apply a little nail polish to the stain and wipe it off with a napkin.
These methods are also suitable for leather products, but first check on an inconspicuous area so as not to spoil the material.
Leather
The human body is delicate and sensitive, and ordinary soap or shower gel may not be able to cope with marker stains. You can try using hand sanitizer. Apply it to the necessary areas and massage gently, then rinse with water.
If that doesn't work, you can use a makeup remover. Apply a little liquid to a cotton pad, gently wipe the stains and rinse with water.
Earlier, OBOZREVATEL published universal life hacks to help remove old stains.
Subscribe to OBOZREVATEL's Telegram and Viber channels to keep up with the latest developments.