Trending:
How to remove grease stains on tablecloths: the most effective ways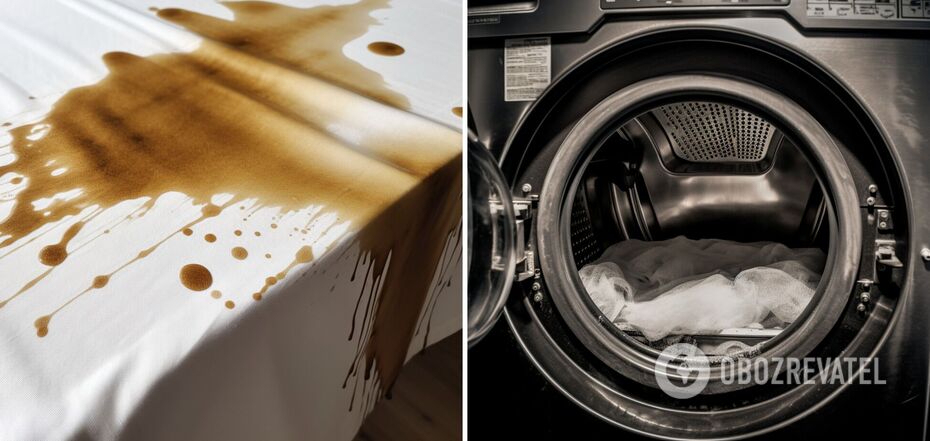 Proper treatment before washing will help remove grease from the tablecloth completely
A tablecloth gives the kitchen table a finished and more sophisticated look. And it also collects a lot of food and drink stains, including grease stains - which are the hardest to get rid of. Of course, you can wash kitchen textiles at high temperature and with a lot of powder or gel, but this will quickly put the tablecloth out of order. Here it is better to use other ways to remove grease from the fabric.
OBOZREVATEL tells about improvised means, which will help to cope with the problem. And also about how to use them correctly.
Dish soap
The first purpose of dishwashing liquids and gels is to dissolve grease, so they can help very effectively with fabrics as well. It is enough to simply apply a drop of the product to the soiled area, gently rub it in with your fingers or a cotton pad and leave it to work for 10-15 minutes. After that, the thing is rinsed out and washed in the machine as usual.
You can also soak the entire tablecloth in a hot solution of dish liquid. A tablespoon of the liquid is enough for a basin of water. After an hour, it should cope with the grease.
Gasoline
This type of fuel is also an effective solvent. The main thing is to use it in moderation, to use it in a well-ventilated area so that gasoline vapors can escape immediately, and never to work with it near open flames. Put a few drops of the substance on a cotton pad or napkin and wipe the stain with it. After 10 minutes, the tablecloth can be washed as usual.
Baking Soda
This product can be added to laundry detergent to enhance its degreasing properties. It is enough to add two tablespoons of baking soda in the powder or liquid before washing. Baking soda can also be poured on a fresh grease stain - it should quickly absorb grease before it penetrates the fabric fibers.
Citric Acid
A solution of citric acid is good for fighting grease in textiles. Dilute the dry product in the proportion of 2 g of powder per glass of water. If the stain is old and persistent, it is better to prepare an alcoholic solution - for 1 part of acid 10 parts of alcohol. The resulting liquid is generously treated with the stain and leave it to act for 10-15 minutes, and then the tablecloth is washed.
Ammonia
Ammonia will be effective even against outdated stains. To prepare a mixture based on it, you need to take:
0.5 tablespoons of ammonia alcohol;
1 tablespoon of glycerin;
1 tablespoon of water.
These three substances are mixed until homogeneous and treat the grease stain. You can also use a simple aqueous solution of ammonia in a ratio of 1:1. After which the tablecloth should be washed.
Previously OBOZREVATEL told you how to remove stains from the textile upholstery of the sofa.
Subscribe to OBOZREVATEL channels in Telegram and Viber to keep up with the latest news.