Trending:
How to quickly dry dug up carrots and beets: tips for gardeners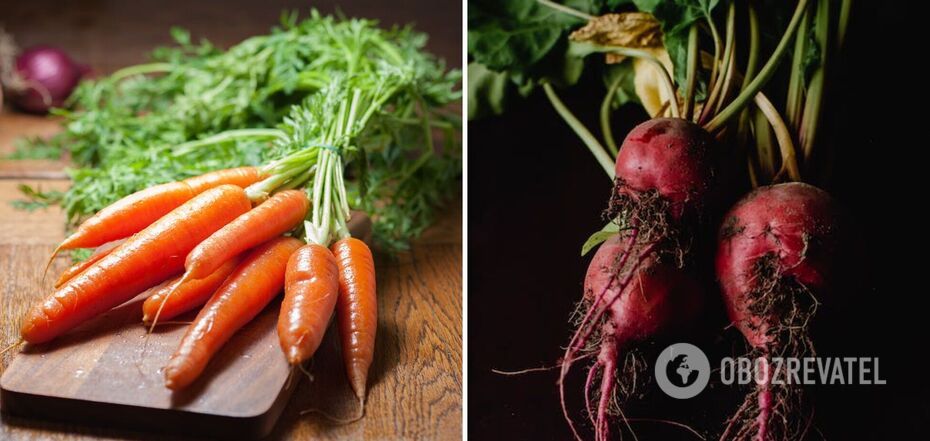 How to quickly dry dug up carrots and beetroot:
In the fall, it is necessary to devote enough time to harvesting in time for the rainy season and the first frost. Because bad weather conditions can spoil the fruits and all the efforts of the owners will be in vain.
Therefore, use the last warm days to prepare carrots and beets for wintering. OBOZREVATEL has found effective tips to help you dry vegetables properly.
If you bring the harvest from the garden directly to the cellar or other place, the fruits are likely to start rotting. It is worth drying them to keep them in excellent condition throughout the winter.
To do this, you need to air dry them. On a warm and dry day, spread the carrots and beets on a grid so that air can circulate around them. The sun's rays and a gentle breeze will help to quickly get rid of excess moisture in the vegetables. Turn the fruit over from time to time.
If you see that the carrots and beets are still wet and the rainy season has already begun, then blot the vegetables with a dry towel or paper napkins. You can also use a fan to speed up the drying process.
After that, put the vegetables in boxes or bags and put them in a dark, dry place. This will ensure that your harvest is stored for a long time.
OBOZREVATEL also told you how to store root vegetables in an apartment. Vegetables in such conditions need additional protection.
To do this, a mash is prepared from ordinary clay mixed with water, into which each fruit will need to be dipped. Next, the crop is dried, put into cardboard boxes and placed in an environment where the fruit is not exposed to sunlight or excessive moisture. This can be either a pantry or another cardboard box if there is no such room.
It is also important to maintain the correct temperature. It is better that the temperature in the place where vegetables are stored is positive, but not high.
Earlier, OBOZREVATEL told you how to dig carrots properly to keep them for a long time.
Subscribe to OBOZREVATEL 's Telegram and Viber channels to keep up with the latest developments.