Trending:
How to quickly cool a house in the heat: a man shared a trick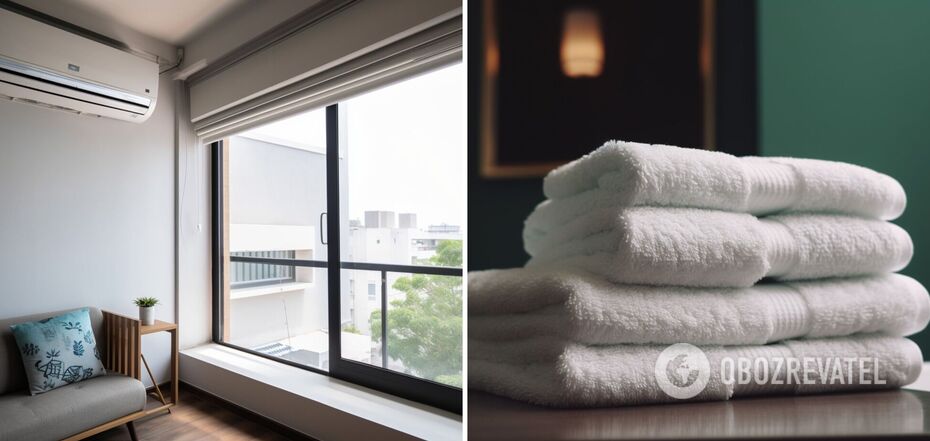 Wet textiles can become a homemade air conditioner
Heat waves, which have become more frequent in recent years, can take people by surprise. And then people start looking for all possible ways to cool their homes. Including without air conditioning.
One effective life hack was suggested by laundry expert Diane Dimitrov, writes the Mirror. When the thermometer exceeds 30 degrees, all you need to cool down is a damp bath towel or sheet.
In order to lower the temperature in the room, you need to dip the towel or sheet in cold water and hang it in a place where air passes, for example, on windows or doorways. The most important thing is to cover the points where hot air masses from the street penetrate the house.
As the fabric dries, it will absorb some of the heat energy. It will be used to evaporate water from the textile. Thus, less heat will enter the house and the atmosphere inside the room will be more comfortable.
But it is important to use clean towels and sheets. Second-hand items can spread unpleasant odours throughout the room.
And for cooling to be effective, you need to make sure that the fabric is constantly wet. To do this, you can remove and immerse the textiles in water as they dry, or you can spray them with a spray bottle. The method does not matter, the main thing is that the fabric has water available for evaporation.
It is especially recommended to arrange such cooling at night and near rooms where people sleep. After all, the heat makes it difficult for many people to fall asleep. And rooms where towels have helped to reduce the temperature are more comfortable for sleeping.
Earlier, OBOZREVATEL told how you can cool drinks in the summer without a fridge. The towel trick is also among them.
Subscribe to OBOZREVATEL's Telegram and Viber channels to keep up with the latest news.