Trending:
How to quickly clean the kitchen from greasy stains: life hack with vodka and vinegar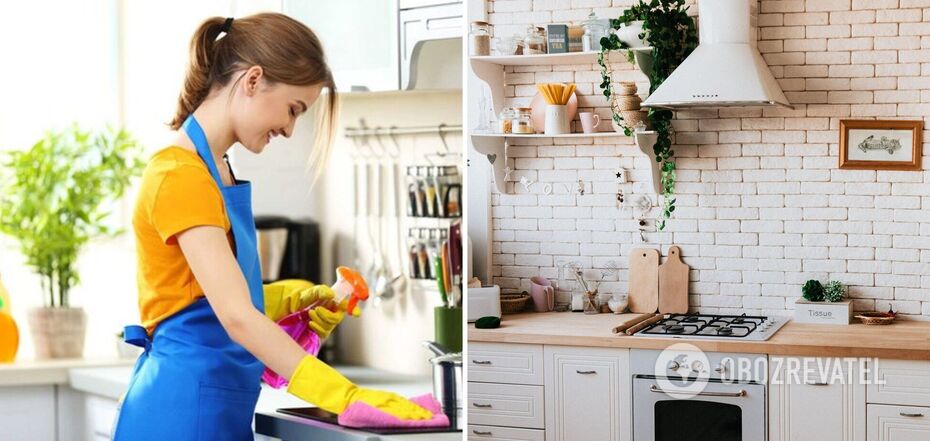 How to clean greasy stains in the kitchen
There are many popular tips to help you clean your kitchen without using harsh chemicals. You can try a life hack with baking soda - it acts as an effective neutraliser of dirt, odours and burnt fat. For washing dishes, prepare a universal cleaner based on glycerine.
An interesting life hack is gaining popularity online - a mixture of vodka and vinegar. OBOZREVATEL figured out how to clean the entire kitchen from greasy stains with just one product.
The ingredients you need:
white vinegar
vodka
essential oil.
How to prepare
Step 1. Mix one glass of vodka with a glass of table vinegar.
Step 2. Add a few drops of your favourite essential oil. You can use one of the universal aromas: citrus, lavender, vanilla, jasmine, cinnamon, pine needles.
Step 3. Pour the solution into a spray bottle and shake thoroughly.
Spray on particularly dirty surfaces and leave for 20-30 minutes. After the greasy stains dissolve and start to disappear, wipe off the remaining product with a damp sponge.
By the way, if the room smells of burnt fat after cooking or the room is filled with smoke, try pouring clean water and vinegar into a saucepan and boiling the solution over medium heat. Then pour the vinegar water into small containers and place them around the perimeter of the kitchen. Vinegar acts as a quick odour neutraliser. For a greater effect, you can add essential oil, lemon, rosemary or cinnamon sticks to the vinegar water. What tools will help get rid of unpleasant odours in the kitchen - read the article.
Earlier, OBOZREVATEL told how to make a home budget detergent that can clean any surface from grease.
Subscribe to OBOZREVATEL's Telegram and Viber channels to keep up with the latest news.