Trending:
How to quickly clean a mop after cleaning: lifehack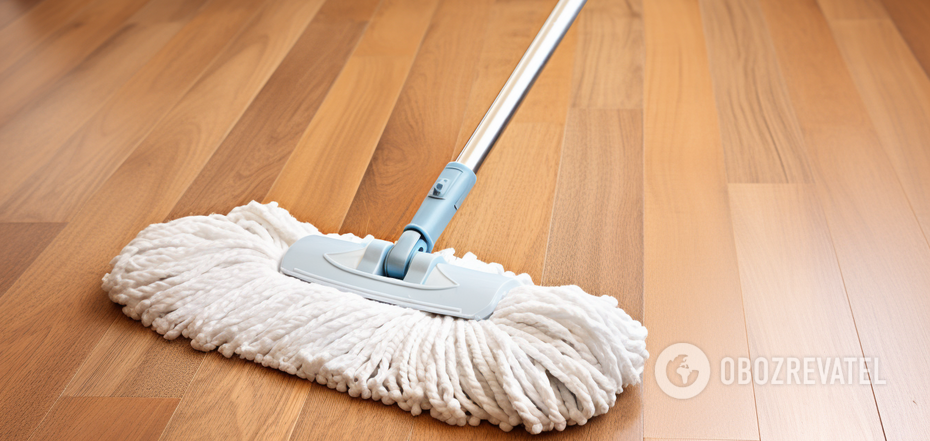 Proper care of the mop extends its service life
More and more often in our homes can be found such a convenient household tool as a mop with a removable nozzle, which can be separately rinsed. They are lighter, less bulky, better reach into corners and under furniture. But they create a new additional challenge: caring for the nozzle. In order for it to clean floors well and be hygienic, it needs to be cleaned accordingly.
OBOZREVATEL collected the main tips on this matter. If they are adhered to, the mop will last long and will not lose its qualities.
Washing in the machine
The good news is that most attachments for these mops are machine washable. To make sure it's safe to do so, read the label on the tool carefully.
If you don't have the label for one reason or another, take a closer look at the material the mop head is made of. Microfiber can safely be sent to the drum. Just like cotton.
Hand washing
In any case, the mop head can be washed by hand. In this case, you can use both laundry soap and ordinary laundry products - powders, gels, etc. For washing, you can use hot enough water - it will better clean the material. The attachments can also withstand pre-soaking.
Shelf life of mop heads
Machine washing reduces the shelf life of the nozzle. Cotton can withstand no more than 50 cycles without losing its properties. Microfiber is more resistant, it can be washed hundreds of times. But it is necessary to choose a mode for synthetic fabrics and not to exceed the recommended temperature.
The main cautions
The material from which mop heads are made is in any case not designed to withstand the use of laundry conditioner or bleach. Conditioner will make it less hygroscopic and the mop head will quickly lose its properties. And bleach will damage the fabric fibers over time.
The nozzles must not be dried in the machine. They must be hung outdoors. If you want to disinfect the nozzle, place it in direct sunlight - UV light will kill germs that may be in the fibers.
Earlier OBOZREVATEL told how to clean burnt grease from dishes without friction.
Subscribe to OBOZREVATEL channels in Telegram and Viber to keep up to date.