Trending:
How to properly prune blackberries to increase the harvest: secrets of country growers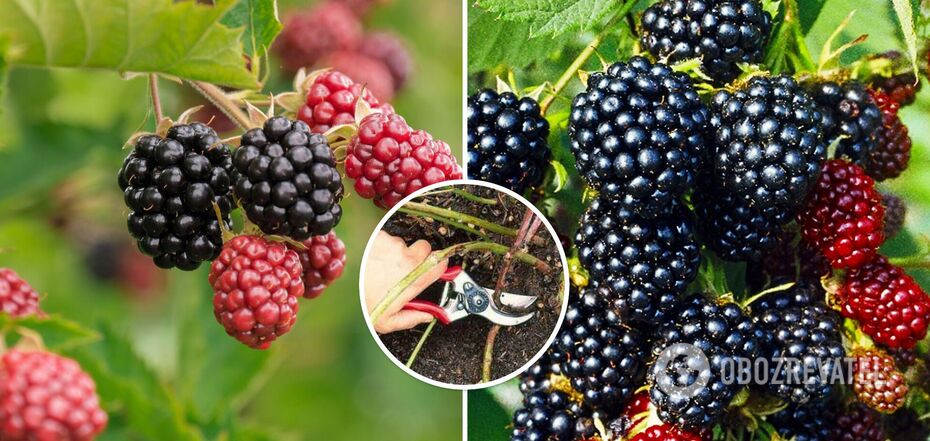 Pruning blackberries
It is quite easy to grow blackberry bushes on a bed or in the garden. The main conditions are regular watering and pruning. The root system of bushes is well developed, but most of the roots grow at a shallow depth of up to 25 cm, so fruits and leaves will dry up if watering is insufficient.
Pruning is necessary for quality and healthy plant growth. When removing excess shoots, conditions are created for the growth of young and strong branches. To know how to properly prune blackberries, read in OBOZREVATEL material.
Rules for pruning blackberries
Timely and proper pruning can multiply the amount of yield. Blackberry bushes are prone to rapid overgrowth, so thin them out regularly. Too dense thickets will not provide enough sunlight for ripening berries.
Immediately after planting make the first pruning by cutting off shoots to 30 cm above ground level. First of all, get rid of weak, thin and weak shoots.
In spring, when frosts are no longer predicted, experienced gardeners advise to remove frozen tops. Bramble is a heat-loving culture, so there is nothing surprising in the fact that winter frosts lead to the freezing of branches. Using pruning shears, cut all damaged shoots to the nearest healthy bud.
During spring pruning, leave a dozen annual branches in the center of the bush, shortening them to 1,5 m. Side shoots are cut back to three buds.
In summer (best in early June), blackberries can be cut back a little again. The tops should be shortened by 5 cm and side stems with a height of more than 70 we shorten by 25 cm.
By the way, young trees should also be pruned. This will allow you to properly form the "skeleton" of branches for their proportional placement. The procedure can even improve fruiting, but it should be carried out very carefully. To know how to properly prune young trees so as not to harm, read in the material.
Earlier OBOZREVATEL told how to properly cut strawberries after flowering.
Subscribe to OBOZREVATEL channels in Telegram , Viber and Threads to be aware of the latest events.