Trending:
How to prevent fruit flies in the house: summer tips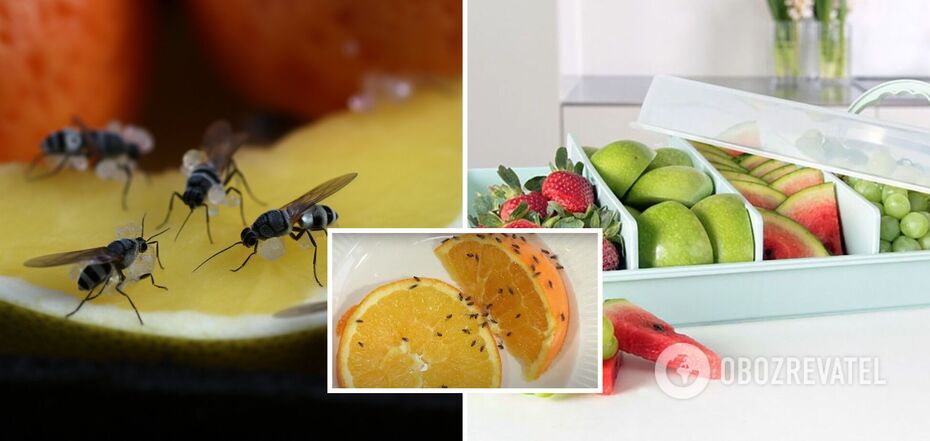 Fruit flies
Fruit flies are small insects that become unbearable in summer. They reproduce at a frantic rate, usually feeding on yeast produced by fermentation, and the kitchen is their favorite place in the house.
Fruit flies can usually be found in stale fruit. They love the smell of juices, flowers, jams, beer, wine and seasonal fruits that are starting to spoil. The Express tells you how to prevent these insects from entering your home.
Fruit flies do not bite, but they carry bacteria and other harmful pathogens into food. The female lays more than a hundred new eggs per week, from which white larvae hatch, which quickly grow and begin laying eggs themselves.
Store your fruits and vegetables correctly
The first rule is the proper storage of fruits and vegetables. Fruit that starts to spoil should be thrown away immediately, otherwise you'll soon see white maggots begin to appear on the surface.
"Fruit flies are attracted to the smell of fermentation, so refrigerate food beforehand and store it in an airtight container," stressed expert Rachel Kiss of Alliance Online
Cleanliness in the kitchen
Keeping surfaces clean and disinfected regularly will also help prevent fruit flies and other unwanted insects that are attracted to food scraps. In addition, remove trash daily to prevent food scraps from rotting in the summer heat.
Natural traps
You can buy special sprays and repellents, or you can make your own "natural traps" for insects.
Fill a small bowl or jar with apple cider vinegar and a few drops of dishwashing liquid. Cover the solution with plastic wrap. Be sure to poke a few holes in the plastic to lure the flies in. Cheap red wine can be used instead of apple cider vinegar.
"Natural repellents are a strong deterrent to fruit flies. The strong scent of dried basil, mint and bay leaves will also help. Just put herbs in places where you usually notice insects," Rachel advised.
Another tip: Mix water with essential oil and use the solution as a natural repellent. Lemongrass, lavender, or eucalyptus scents work best.
Use a fan
Fruit flies do not have very strong wings, and a regular fan can disorient them in the space. Place it near a kitchen window or door This way, you can create an environment with increased air circulation, making it harder for pests to enter the house.
"The constant air movement created by a fan can disorient the flies, making it difficult for them to navigate and find food sources," Rachel noted.
OBOZREVATEL previously told how to make a homemade candle that fills the house with fragrance and drives out flies.
Subscribe to the channels of OBOZREVATEL in Telegram and Viber to keep up with the latest events.