Trending:
How to prepare roses for winter: tips for lush flowering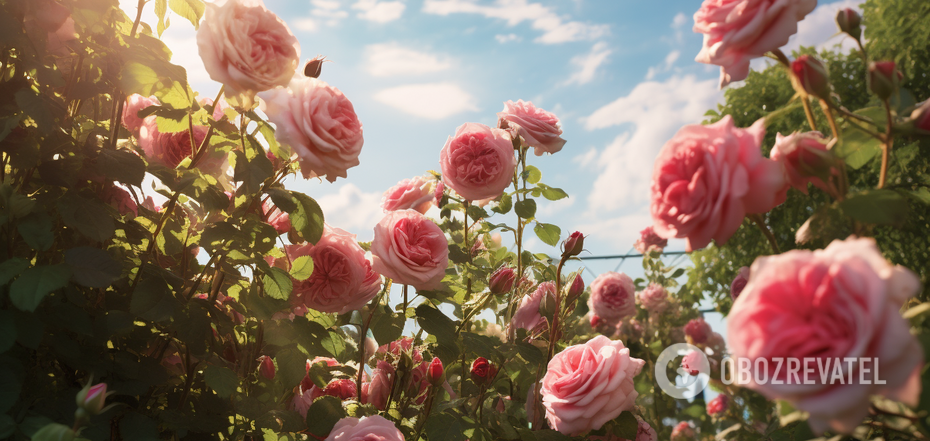 The lush bloom of roses
Roses need to have a certain amount of nutrients to withstand the cold winter. Preparations should begin in September, and pruning should be done after the October frosts.
The fruiting of plants in the next season also depends on the quality of preparation for wintering. OBOZREVATEL tells you how to take care of roses on the eve of winter.
What factors to pay attention to
No matter how comforting the forecasts for winter temperatures are, you should provide roses with reliable shelter in advance. The following factors should be taken into account:
cold resistance of varieties;
the place where the roses are planted (soil type, acidity, humidity, drafts);
how the growing season went;
how the plants were cared for last season;
whether the roses suffered from pests;
whether the flowers are susceptible to diseases, etc.
Pruning, loosening the soil, and weeding also play an important role in the wintering of flowers.
Caring for roses in September
In the second half of September, you should start preparing the bushes for the cold. The first step is to insulate the root system. We offer a simple but very effective way that does not require money and effort - you just need to cover the soil at the roots with 30 cm of sand.
What to do in October
It is recommended to prune roses in October. Dry, diseased, and damaged shoots, as well as all leaves and flower buds, should be removed.
After pruning, roses should be treated with copper or iron sulfate.
In mid or late October, depending on weather conditions, make root insulation from branches.
The period after the first frost
After the first frost in October, roses are pruned by 20-25 cm and treated with a 3% solution of Bordeaux liquid.
Climbing roses should be tilted to the ground, on which pine branches and other insulation should be laid out beforehand.
Finally, a thick wire frame should be made over the roses. It is advised to put roofing material, plastic wrap or foam rubber on top. The bushes need constant protection after the onset of stable frosts. Please note that when arranging the shelter, the roses should not be wet.
Earlier, OBOZREVATEL told you how and when to prune roses to have a lot of flowers.
Subscribe to OBOZREVATEL's Telegram and Viber channels to keep up with the latest developments.