Trending:
How to prepare roses for the new season: what to feed in August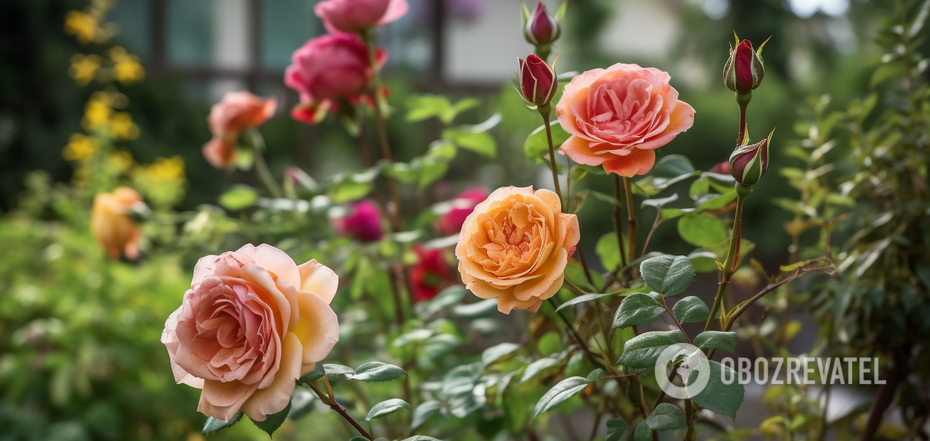 What to feed roses in August
In August, roses need special care. Before the winter frosts, it is important to feed the root system, do proper pruning and take care of the presence of useful microelements in the soil.
With quality care, roses can bloom until deep fall. What to feed roses in August - read in the material OBOZREVATEL.
What you need to have time to do in August
At the end of summer you need to carry out a number of activities to prepare plants for winter.
Weeding
Increased air humidity and temperature fluctuations contribute to the development of fungal diseases. Weeds aggravate the situation by disrupting the process of air access, accumulating excess water, taking away nutrients and contributing to the active reproduction of pests.
Pruning
New shoots are not needed in August, so you should stop their growth by pinching and pruning.
Pest treatment
You can feed the bushes with organics or mineral fertilizers. In August, roses are most often affected by whiteflies.
What to feed roses
Experienced vegetable gardeners recommend applying organic fertilizers in the first half of August. You can feed the bushes with compost, manure, green fertilizers, peat.
Closer to the beginning of fall, roses need potassium and phosphorus. A solution of superphosphate, potassium chloride and callimagnesia is ideal.
Take a ten-liter bucket and fill it with water.
Add 40 grams of superphosphate and 15 grams of potassium salt. Mix thoroughly.
Pour 1 tablespoon of callimagnesia into the solution.
Each bush should be fertilized with 3-4 liters of fertilizer. Only one fertilizer will be enough.
Fertilizers can also be made in dry form in the calculation of 60 grams of superphosphate and 30 grams of potassium chloride per square meter of bed. Dry fertilization is made after abundant watering or natural precipitation.
Also, experts advise to conduct foliar feeding with wood ash.
An important caveat: nitrogen fertilizers in the second half of August do not need to be made.
Earlier OBOZREVATEL told how to cut roses correctly.
Subscribe to OBOZREVATEL channels in Telegram and Viber to be aware of the latest events.