Trending:
How to prepare lavender bushes for winter: rules for autumn care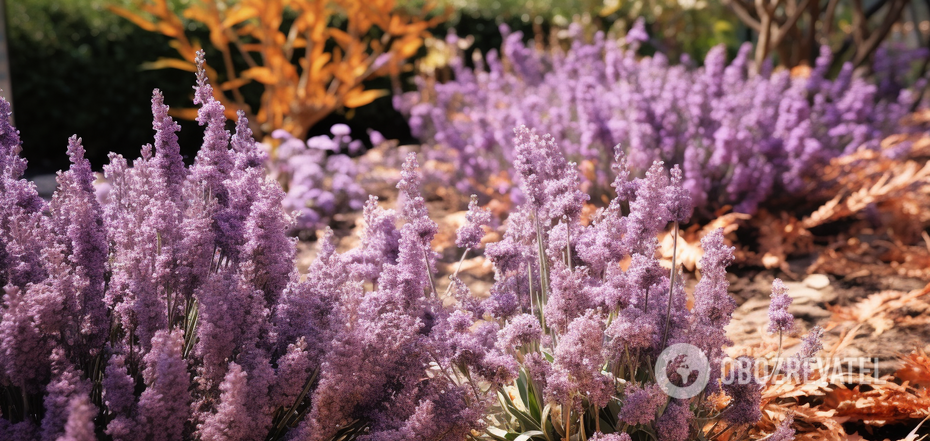 Autumn care for lavender
Lavender is a useful and unpretentious plant. It is quite drought-resistant, quickly adapts to weather conditions, and can even protect your home from mosquitoes, flies, and other insects.
Often gardeners neglect to prepare lavender for winter, and that's a shame. How to care for lavender bushes in the fall - read the OBOZ.UA article.
How lavender tolerates winter frosts
Narrow-leaved lavender is the most resistant to cold weather. This variety can withstand frosts down to -25 °C, so it will overwinter well even without shelter.
But there's an important caveat: even hardy varieties can die in frosty winters if there is no snow. The fact is that snow cover is a natural shelter. Meteorologists cite disappointing statistics: in recent years, there has been a drop in air temperature without snowfall. Snowless winters are now quite common, so plants need additional protection.
In the case of lavender, you should be careful - the plant can suffer from damping off even more than from frost. Improper shelter can lead to the death and decay of lavender.
Preparing lavender for winter
Lavender needs annual high-quality pruning, but in the northern cool latitudes, thinning the plant can lead to a decrease in frost resistance.
At the end of October, abundant watering should be carried out, which will "charge" the plant with moisture. Under a young bush, 10-20 liters of water should be poured, taking into account, among other things, weather conditions - how rainy the fall is. Under old sprawling bushes, you can pour 50 liters of water.
Having completed watering, proceed to mulching with compost. Rotten manure or wood ash is suitable. This will help protect the roots from freezing. Mulching should be done around the bush. It is better not to cover lignified branches with compost.
Shelter for lavender
For a healthy plant, watering and mulching will be enough, but young bushes that have not yet fully formed need shelter.
Lavender cannot be simply bent to the ground and covered with spunbond. The bush needs to breathe, so you shouldn't use a film or thick fabric either - this will lead to damping off.
It is best to take arcs and branches of conifers. Arcs should be placed above the bush so that there is enough free space under them, and branches should be placed on top. The needles will retain snow and allow the bush to breathe. The shelter itself does not need to be airtight, and you can open the lavender in a thaw.
Earlier, OBOZ.UA told how to make lavender bushes lush and grow quickly.
Subscribe to the OBOZ.UA channels in Telegram and Viber to keep up with the latest events.