Trending:
How to plant daffodils in the autumn: what conditions are needed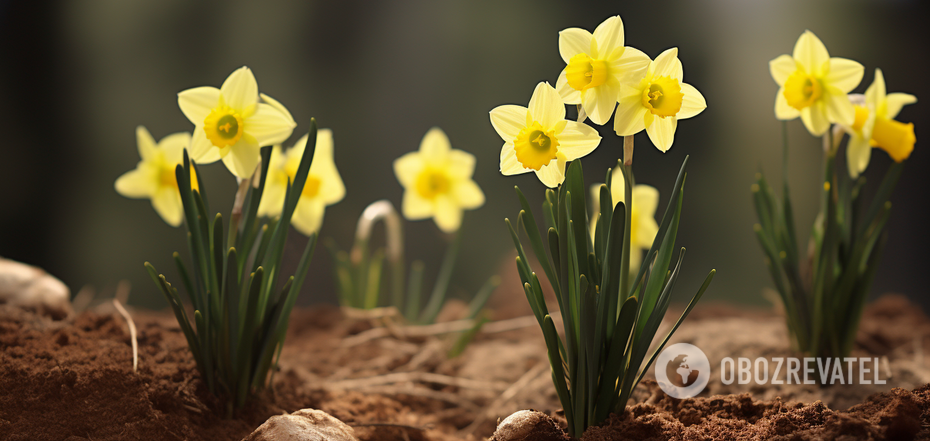 How to grow daffodils in the garden
Gardeners appreciate daffodils for their low maintenance and disease resistance. Usually, these flowers are planted in the fall to get an early, abundant bloom the following season.
Daffodils should be planted only in a prepared bed. How to properly care for daffodils after planting and what kind of soil is needed for high-quality flowering - read the OBOZ.UA article.
When to plant daffodils
Experienced gardeners recommend digging up daffodils annually and dividing them into several parts. When planting, it is important to pay attention to weather conditions: the soil temperature should be between +8 and +10 ℃.
The flowers should take root before the first frost, and the bulbs should not start growing. Therefore, the ideal time for planting daffodils is late August and early September.
Features of the soil
You can start preparing the soil for planting daffodils in the summer. Pay attention to the acidity - it should be at the level of 6.5 pH.
Sandy soils are not suitable for daffodils - the bulbs will gradually shrink in them, and eventually flowering will stop altogether. By the way, it is the sandy type of soil that freezes much deeper.
Humus must be added to sandy soil: about 20 kg is enough for 1 square meter.
Three rules for planting daffodils
The process of planting daffodils is simple, but there are important rules to remember:
The distance between the holes should be 15-20 centimeters.
A small layer of sand should be placed at the bottom of the hole. The bulbs are laid down, slightly pressing them into the sand.
A little wood ash can be poured on top of each bulb, while the remaining space should be filled with soil, fertilized with mineral fertilizers.
How to care for daffodils after planting
After planting, daffodils should be watered abundantly. Then watering is carried out as the soil dries. During periods of prolonged rain, make sure that the plants do not rot from waterlogging.
If the flowers do not form a root system before the first frost, the daffodils will simply die.
After planting, gardeners do not recommend fertilizing the bed.
It is important to regularly loosen the soil on the site to prevent a crust from forming. For the winter, daffodils should be covered, and at the first frost - mulched with a layer of peat or dry leaves.
Earlier, OBOZ.UA told which bushes should not be pruned in the autumn.
Subscribe to the OBOZ.UAchannels in Telegram and Viber to keep up with the latest events.