Trending:
How to plant a chrysanthemum from a bouquet: a quick way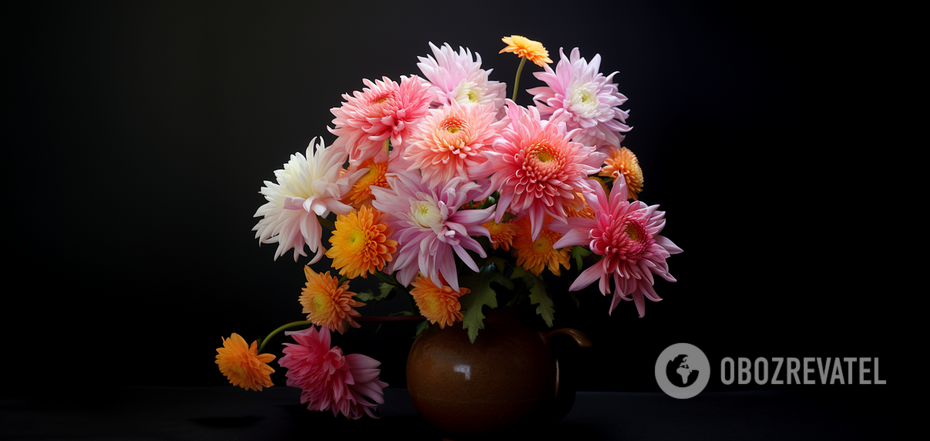 It is not difficult to give a chrysanthemum from a bouquet a second life
Often, when we receive a bouquet as a gift, we dream of keeping it for a long time. There are several ways to do this. For example, you can dry the flowers. But chrysanthemums can be rooted and planted in your garden or flower bed.
OBOZ.UA found out what you need to do to make this tenacious plant take root and take root in the ground. As for special products, you will only need any powdered rooting agent, which can be easily purchased in stores selling plant care products.
To prepare the chrysanthemum for rooting, cut it off at a height of 3-4 buds from the base. You don't have to cut the flower from the bouquet at all. Cut the resulting stem into several cuttings about 5 cm long and remove any excess leaves from them so that they do not rot during rooting.
Fill the container in which you are going to root the flower with universal soil. Do not use containers that are too large - it will be easy to overdry or overfill the plant. Dust the side of the cutting that you plan to immerse in the ground with the rooting agent. Next, make a depression in the soil, insert the powdered part of the stem into it, and cover it with soil.
Compact the soil around the plant and spill it well with water. You can add a little succinic acid to the water for irrigation by dissolving 5 tablets of the product in 1 liter of water. This will speed up the rooting of the chrysanthemum.
Leave the pot with the cutting in a well-lit place and water it as needed. Soon the flower will begin to sprout roots, and shortly after that, it will grow young shoots. It can be planted outdoors as soon as the plant is strong enough and the weather permits. Until then, the chrysanthemum will feel good in a pot.
Earlier, OBOZ.UA told you how to fertilize geraniums so that they bloom all year round.
Subscribe to the OBOZ.UA channels in Telegram and Viber to keep up with the latest events.