Trending:
How to perfectly clean windows without chemicals: tips from experienced housewives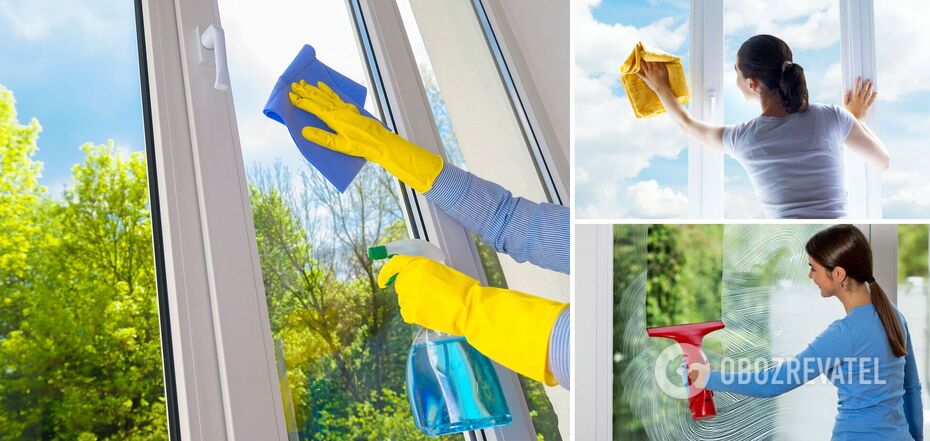 How to clean windows without chemicals
In summer, windows get dirty especially quickly. Dust and dirt settles on the surface, and after washing there are streaks and streaks.
Experts advised how to perfectly clean the windows without chemistry. White vinegar is often used to clean windows, as it quickly and effectively breaks down any contaminants. The Express publication talked about some of the nuances of home cleaning.
Laura Harnett, founder of Seep eco-cleaning tools, explained how to clean windows without harsh chemicals and prevent streaks.
You will need:
white vinegar;
a spray bottle;
warm water;
dishwashing detergent;
a soft brush;
sponge;
a cloth.
First of all, you should get rid of mold. The cause of mold is temperature differences, improper insulation or even poorly installed windows. Wipe the window sill and frames with a paper towel. Pour white vinegar into a sprayer and treat the affected areas. Leave the vinegar on for an hour and then go over the surface with a soft brush.
The next step is to clean the frames. Wash the window frames with warm water and detergent. It's important not to clean the windows with foam because it can leave marks. A brush will also help to clean dirt from the seams.
The expert advises cleaning the glass with a solution of vinegar and water in a 1:1 ratio. Spray the remedy on the window, and then wipe the glass with a microfiber cloth.
By the way, if you are prone to the appearance of allergies, you can try an environmentally friendly and absolutely safe flyhack from mold. You should pour a glass of water into a sprayer and add 1 teaspoon of tea tree vegetable oil. After spraying on the stains, wait 10-15 minutes and wipe the windows with a dry cloth. Read more about safe means of combating mold in the material.
Previously, OBOZREVATEL told than to wash the windows to keep them clean until fall. One ingredient will repel dust from the glass.
Subscribe to OBOZREVATEL channels in Telegram, Viber and Threads to keep up to date.