Trending:
How to organize things in the kitchen and in the pantry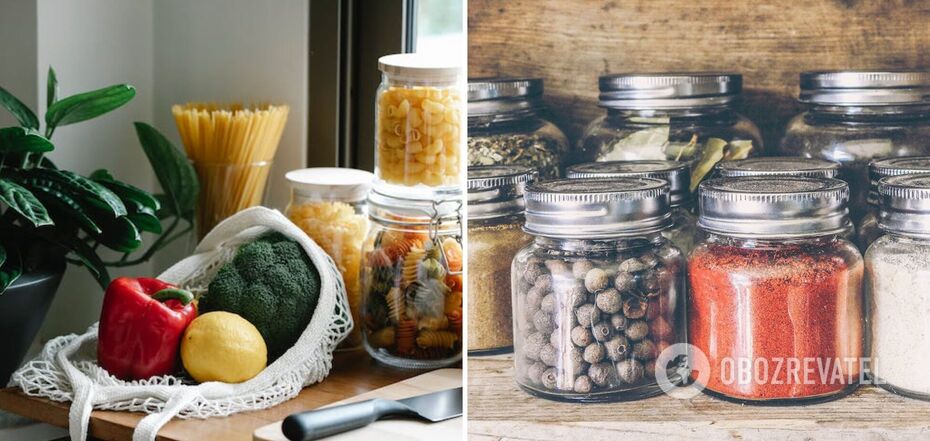 How to organize things in the kitchen
Properly organized things in the kitchen will help to find everything you need quickly and work efficiently. However, not all hosts know how to do this so that all family members are comfortable.
While designing the house, most people do not pay attention to the pantry. The problem of organizing things may then arse. OBOZREVATEL has found the best lifehacks that will help keep the house in order properly.
No matter what state your kitchen is in now, you can improve it with the help of inexpensive and accessible items.
Airtight containers
These are containers for storing different foods, meals and cereals. By using containers, you can avoid spoilage of foods such as pasta, cereal and others. Due to the airtightness, air and moisture will not get in there.
Transparent containers will reduce the time spent searching for the right cereals and create a neat environment in your cabinets.
Labels
Labels can be used for opaque containers. This way you can write what is in the jar and the date of packaging. This will help you find what you need quickly. You can buy labels at the store or make your own.
Spice kits
Spices are often lost or scattered, so it is better to store them in small jars with signatures. There are also special shelves for them, which can be marked in the cabinet. This will allow you to find the necessary seasonings quickly.
Shelves in the pantry for canning
Canned goods often take up a significant part of the space in the pantry. Therefore, one of the best ways to put them in order is to make shelves. This will maximize space and help avoid banging jars.
Signature baskets
Baskets are a great way to hide those items that create clutter in your kitchen or pantry. They are best for storing large items that take up a lot of space. Baskets can be placed on the floor under shelves with jars or hidden in a closet. You can also write labels.
Open containers
This is more like a plastic clear box. This will allow you to put the food or items you need in there, saving you a lot of time.
Open grocery garbage cans
These can be metal boxes similar to the baskets we take to the supermarket for groceries. They store fruits and vegetables there that cannot be put in the refrigerator. Such a box will allow air to circulate and keep the food fresh.
Beverage organizers
You can put several cans and bottles in the refrigerator at the same time, but sometimes you need more space. You can buy special bottle organizers that will fit in your fridge or pantry.
Cereal dispensers
If you have enough space in the kitchen, you can buy special cereal dispensers. They are convenient to use, but take up more space than plastic containers. By pressing the handle, you can take the amount of groats you need.
Previously, OBOZREVATEL shared how many towels should be in the kitchen of a good hostess.
Subscribe to OBOZREVATEL in Telegram and Viberchannels to stay up to date.