Trending:
How to open wine without a corkscrew: the most interesting ways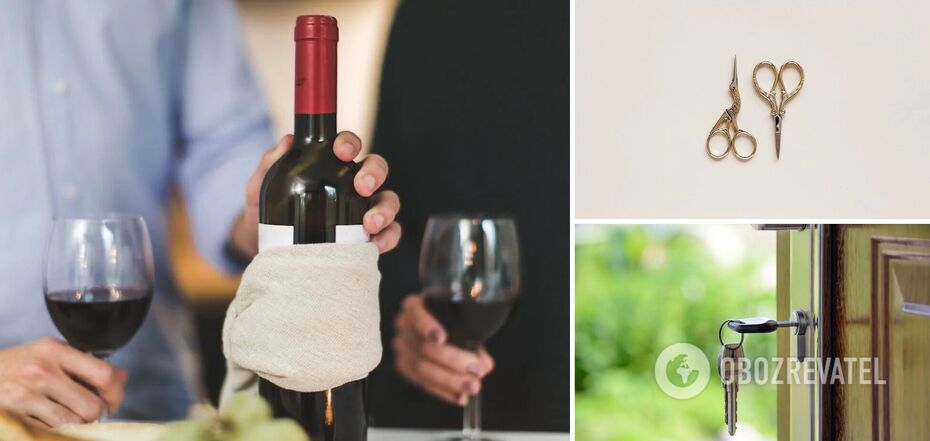 How to open wine without a corkscrew
Various celebrations or just friendly get-togethers are not complete without a bottle of wine. There are situations when there is no corkscrew at hand and this puts the hosts and guests in an awkward position.
But OBOZREVATEL has found interesting ways that can quickly resolve this situation. To do this, you will need tools or items that are in every home.
Keys or a knife
The bottle can be opened with a key or a knife with small teeth. Carefully insert the key into the cork and slowly twist it in a circle until it sinks in. Then pull the key or knife to remove the cork.
Spoon, lip gloss
This method is safe, but it takes a little effort. Choose a blunt object that fits into the neck of the bottle. It can be a spoon, mascara, or lip gloss. Use the object to push down on the cork to push it into the bottle. Of course, the cork will not be able to be removed from the inside, but this will not prevent you from pouring the drink.
Scissors
Carefully slide one blade of the scissors into the center of the cork. Then twist the scissors so that the blade is well "stuck" in the cork, and pull the scissors toward you like a corkscrew.
Nail and hammer
When using this method, be careful not to hurt yourself. Take a long nail and hammer it lightly into the cork. Then hit the nail with a hammer (the pointy part) and slowly pull the cork towards you.
Heating
This method is not fast, but it is effective. Use a lighter to heat the neck of the bottle and when the temperature reaches a certain point, the cork should "pop" out of the bottle.
Earlier, OBOZREVATEL told you how long an uncorked wine can stay in the refrigerator and how to store the drink properly.
Subscribe to OBOZREVATEL's Telegram and Viber channels to keep up with the latest developments.