Trending:
How to make towels white and clean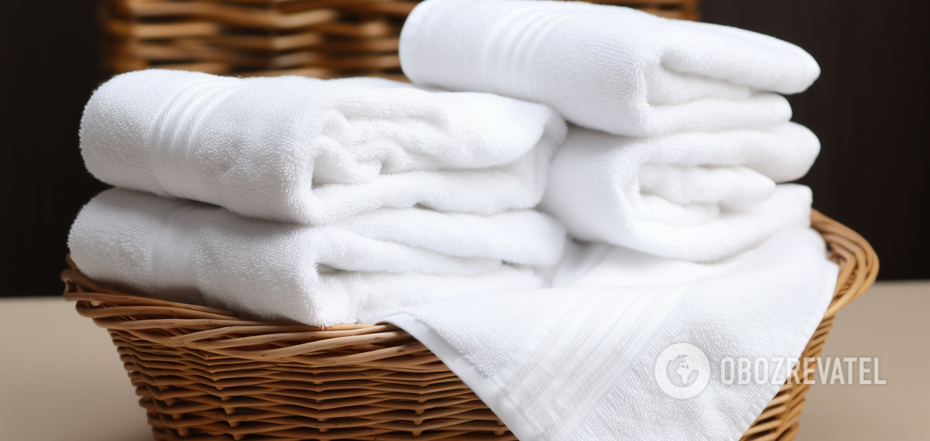 Aspirin and vinegar will restore your towels to their original whiteness
White towels are the best choice for any interior style and color scheme. It is not surprising that even the most expensive hotels choose this option for their rooms. Well-groomed white towels look luxurious. But what to do if they have faded over time or have stains on them?
Experienced cleanliness experts say that simple and cheap home remedies can restore the pristine appearance of bath textiles. OBOZREVATEL has collected the best lifehacks.
Start with proper care
To keep towels white as long as possible, they need to be properly cared for. Do it from the first cycle of washing. The label contains clear recommendations on the choice of program and detergent, so just follow these instructions.
If you cut off the label or the inscriptions erased over time, you can use a universal approach. For cotton towels, you should choose a program designed to care for natural fabrics: cotton and linen. The temperature mode should be chosen within 40-60 degrees. Boiling textiles in hotter water can remove stubborn dirt, but in the long term will lead to rapid deterioration of the fabric.
Get aspirin out of your medicine cabinet
Acetylsalicylic acid, which is the active ingredient in aspirin, brings more than just an aching head back to life. It can also restore the pristine whiteness of your towel.
To use the cleansing power of aspirin, dissolve a couple of tablets in a basin of warm water and soak the tarnished towels in this solution for half an hour. During this time, the acid should gently affect the fibers, remove stains and remove plaque. After that, you should wash the towels in the machine according to the instructions. When they dry, you will notice how much whiter the textile has become.
Harness the power of white vinegar
This product is the champion of cleanliness. You can clean almost everything in the house with it. White vinegar will also benefit you during washing.
If you add it to the usual laundry detergent, it will not only help to effectively remove dirt but also dissolve plaque, which can occur due to hard water and excessive use of soap. This will bring back the whiteness and softness of the textiles, and the towels will become fluffy again, even if they have been used for a long time.
All you need to do is add a cup of vinegar to the conditioner compartment when washing. You can also pour half a cup of baking soda into the drum to enhance the bleaching effect. This will also neutralize the possible musty smell from the fabric.
Earlier OBOZREVATEL shared how to remove traces of sweat from white clothes.
Subscribe to OBOZREVATEL channels on Telegram and Viber to be aware of the latest events.