Trending:
How to make tomatoes ripen faster: simple ways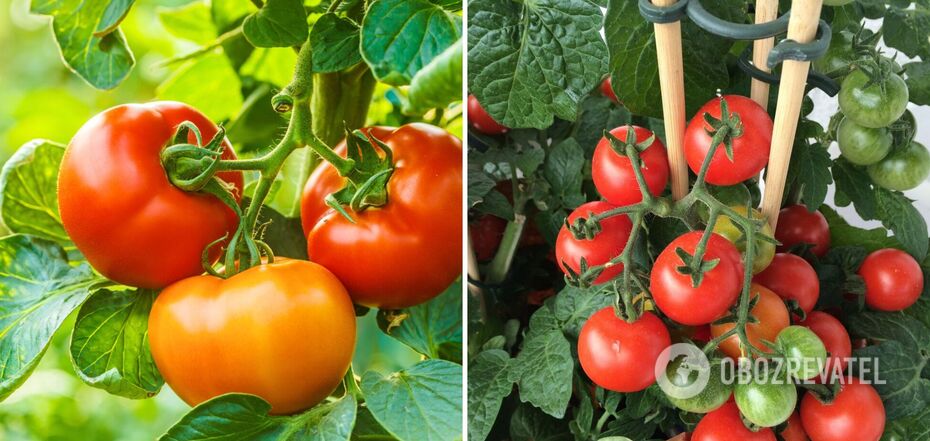 How to grow early tomatoes
Summer is in full swing, and we want to enjoy the first ripe tomatoes from the bed as soon as possible. However, gardeners often notice that tomatoes seem to slow down in growth and ripen very slowly.
Most varieties need three or four months of warm temperatures at an optimum temperature of +21 to +27 °C for the fruit to form. Moderate watering and fertilization should also be remembered. How to make tomatoes ripen faster, told the publication Express.
According to gardening experts at Gardener's Supply Company, there are five ways to speed up the ripening process.
Variety features
First of all, you should choose early-ripening varieties (this information is usually found on the package). Cherry tomatoes, for example, ripen much faster than the larger varieties, which require prolonged heat and sunlight to turn red.
Soil Features.
It is important to maintain the correct soil temperature. Tomatoes grow better in a warm bed, and cool conditions greatly slow their development.
Hardening
To get used to the external conditions, plants need hardening. Approximately one week before planting the seedlings on the bed, experts advise taking them out into the fresh air for a few hours. It is important to choose a partially shaded and wind-protected location. Gradually over the course of a week or 10 days, you should increase the time the seedlings are outside.
Mulching
In summer, experts recommend laying down a thin layer of straw or any other type of mulch to help keep the soil moist. In the spring, however, the soil should warm up well under the sun, so it is not necessary to cover it with mulch.
Feeding
Fertilizers should meet the needs of plants during different developmental periods.
Potassium fertilizers increase resistance to diseases, improve the aesthetic appearance of tomatoes. They should be applied at the stage of ovary formation. Potassium is also useful for a richer flavor and brighter color.
Phosphorus fertilizers are good for the root system. They will speed up flowering, and the fruit will ripen faster. Phosphorus increases plant resistance to adverse conditions.
Nitrogen fertilizers can be used to build vegetative mass, particularly stems and leaves.
In addition, you should install sturdy supports so that the plants are upright and do not shade each other.
In the past OBOZREVATEL told us how to feed tomatoes to make them sweet.
Subscribe toOBOZREVATEL channels on Telegram and Viber to keep up with the latest news.