Trending:
How to make orchids bloom all year: an effective way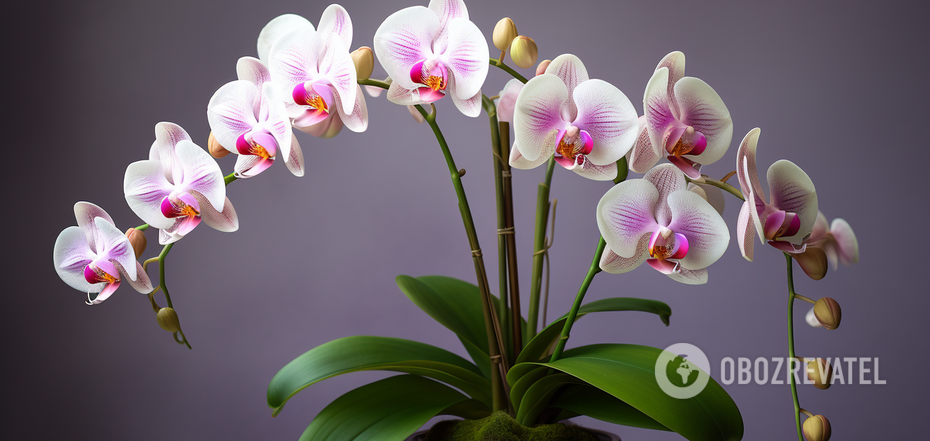 The flower needs moisture through spraying and proper watering
Orchids that can be grown at home come to us from tropical latitudes, where they grow not in the ground but on trees, consuming the substances they need from the air and water. That's why watering these flowers plays such an important role in caring for them. If you provide orchids with proper moisture, they will produce new flowers throughout the year with relatively short breaks.
OBOZ.UA asked experienced growers about the life hacks for proper orchid care. They advised to combine two approaches that will provide the best result.
Spraying
Since the plant receives a significant portion of moisture and nutrients from the air, spraying is really necessary. The procedure should be carried out at least once every 10 days. In dry seasons, for example, when the heating is on in the house, you can slightly increase its frequency.
It is important to use settled or filtered water for spraying. It will be softer than freshly drawn from the tap and will not leave lime stains on the leaves that can harm them.
Another way to provide the plant with moisture through the leaves is to equip it with a tray of water. In this case, the flower pot is placed in a wide and shallow container filled with pebbles or gravel and water. The bottom of the pot should be above the water level, on the stones. In this case, the liquid will not reach the roots but will be absorbed by the plant through the leaves as it gradually evaporates. You will only need to add water to the pan from time to time to maintain a more or less stable level of humidity around the orchid.
Watering
When watering orchids, it is critical not to overwater the plant as this will lead to root rot and death. The flower will tolerate a short drought better than an excess of moisture. That is why experts in growing these plants recommend the 15x15 soaking method.
The orchid pot, which must have drainage holes in the bottom, is immersed in a larger container filled with soft water at room temperature. The plant is given 15 seconds to absorb as much moisture as it needs, and then the pot is left to drain for 15 minutes. After that, the optimal amount of water should remain in the substrate and it can be returned to its place.
Earlier, OBOZ.UA shared how to stimulate the flowering of a Christmas cactus even if it is in no hurry to release buds on time.
Subscribe to OBOZ.UA on Telegram and Viber to keep up with the latest events.