Trending:
How to make delicious pasta for lunch and dinner: sharing a recipe for a hearty dish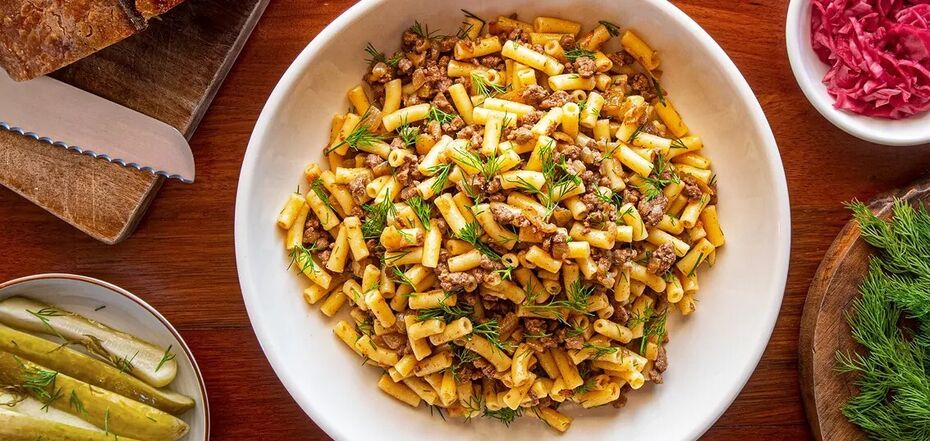 Pasta Recipe
Pasta is the perfect dish for a hearty and tasty lunch. It can be cooked with meat, minced meat, tomato paste, as well as with vegetables. It would be very delicious with chicken hearts and cream, as well as with cheese.
Cook Irina shared on Instagram a recipe for delicious pasta with chicken hearts, with onions and tomato paste.
Ingredients:
pasta - 250 g
chicken hearts - 400 g
onion - 1 pc
carrots - 0.5 pc
tomato paste - 40 g
Preparation method:
1. Rinse the chicken hearts well, cut off any excess and cut them in half. Then rinse well again and let the water drain. Heat a frying pan with oil and put the hearts in it. Fry a little.
2. Add chopped onion, fry until transparent, add carrots and fry all together until golden.
3. Next add the tomato paste and fry for 1-2 minutes. Add salt and pour water, stew under the lid until the hearts are cooked 40 minutes.
4. Pour in the dry pasta and fill with water so that it covers the pasta well. The amount of water depends on the pasta itself, you can add more in the process.
5. Add salt and pepper to taste, cover and cook until pasta is done. Garnish with greens if desired.
Also on OBOZREVATEL you can read the recipes:
<a href="https://food.obozrevatel.com/osnovnyie-blyuda/makaronyi-v-syirnom-souse.htm" target="_blank">Pasta in cheese sauce</a>
<a href="https://food.obozrevatel.com/osnovnyie-blyuda/makaronyi-po-flotski-s-tushenkoj.htm" target="_blank">Pasta with meat stew</a>