Trending:
How to make curtains smooth without an iron: quick methods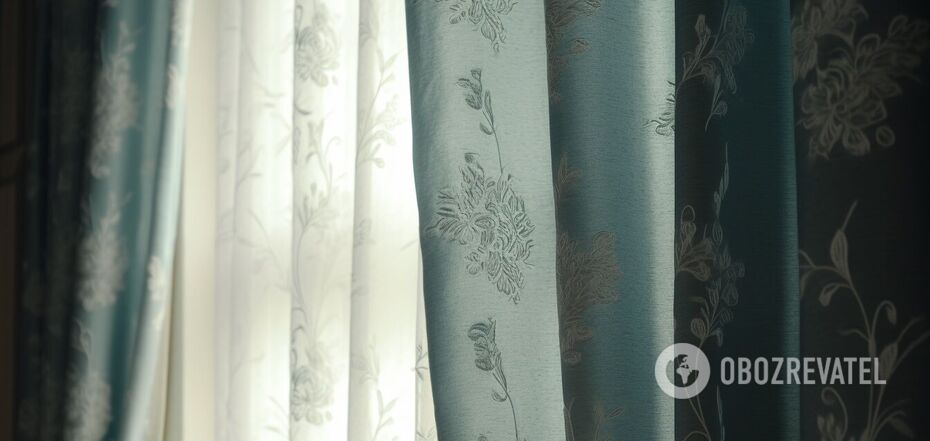 Ironing curtains can be done with more than just an iron
Curtains should be washed every half a year, but this task takes a lot of effort and time for the hostesses. The hardest thing is to iron the tulle well so that there are no creases on it.
The material is different and not always iron can achieve a good result. However, OBOZREVATEL found effective methods that will help to cope with this.
Steaming
If you have a steamer for clothes, then it will be suitable for curtains. To do this, hang them on the ledge or on any hanger and steam the fabric by moving the device up and down.
Make sure that the steam gets to all the necessary areas and smooths them out. Do not remove the curtains, give them time to dry.
Spray to smooth out creases
Such a product can be purchased in a store or ordered online. It contains water and fabric relaxants (these chemical compounds help smooth out creases).
Spray the solution on the fabric and gently smooth the curtains with your hands or a clothes brush to eliminate all irregularities. Leave the fabric to dry, then hang on the curtain rod.
Hot shower
To use this method, you need to hang the curtains in the bathroom. Then turn on the hot shower and close the door to the room. The steam will penetrate the fabric and spread the fibers.
After 15 minutes, turn off the water, carefully remove the curtains and shake them slightly to smooth everything out. They will look like new.
Earlier OBOZREVATEL shared how to quickly get rid of sticky dirt on blinds and roller blinds. Subscribe to OBOZREVATEL channels in Telegram, Viber and Threads to keep up to date.