Trending:
How to make a small garden bigger: ingenious ideas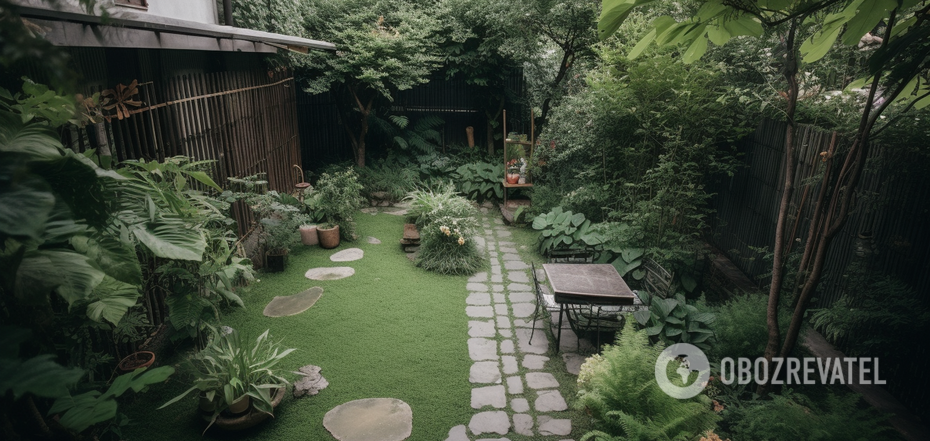 How to maximize space in a small garden
If you want to create the perfect blooming garden but have limited space to do so, no problem. In fact, there are many good ideas for small gardens that will help make efficient use of every square meter.
Focus on having objects offset from the center, creating side focal points. To create the illusion of depth, place larger items in the foreground and smaller items in the background. Read more about the gardening rules from Ideal Home.
Angle of 45 degrees
One tip of the trade is to design your outdoor space so that everything is at a 45-degree angle.
"Design the garden at a 45-degree angle or run a path through the space so that you're looking sideways instead of straight ahead," says renowned garden designer Matthew Childs.
It won't just enlarge the space, but it will also make the garden layout much more interesting.
Sidewalk tiles
The judicious use of paving tiles can visually increase the size of a garden. Using larger tiles means you'll have fewer streaks of grout and visually create a cohesive surface.
The best tile option would be porcelain stoneware. "It's the perfect material for outdoor use because it's virtually maintenance-free," stressed Joe Oliver-Singh, director of The Stone & Ceramic Warehouse.
Stoneware fades in the sun and doesn't grow moss, isn't slippery and is easy to install. Such paving stones are a smart investment because they are also scratch, frost and chemical resistant."
Bright colors
"Using bright colors will make your garden look bigger. Green trees or dark flowers can look beautiful in just the right spot, but if you want to create the illusion of a larger garden, avoid such flowers because they can make the space look more enclosed," said Wendy Rea, expert florist and business manager at Direct2Florist.
Place taller plants and flowers in the back and smaller ones in the front. Planting in groups rather than in individual pots can create the illusion of more space. Flowers such as tulips, fuchsias and primroses are perfect to complement the garden.
"Hanging pots are the best friends of a small garden, especially if you don't have a lawn or flower beds," recommended Matt Jordan of The Greenhouse People.
Garden furniture
Too much garden furniture overwhelms the space and reduces the number of different areas that can be arranged.
Lighting rules
Use a variety of lighting, rather than two or three standard lamps, to visually "play around" with the space.
"Decide which elements of your outdoor space you want to emphasize for both practical and aesthetic reasons. Complement the garden with wall or pendant lights and illuminate pathways," suggested Mara Ripacek Miller, managing director of Industville Ltd.
Raise the garlands as high as possible against a fence or wall to make your garden look wider and taller.
Wild gardens Idea
Experts recommend using the idea of wild cottage gardens. Different heights of flowers, shrubs and grasses can visually "blur the boundaries," so that at first glance it will be difficult to determine how far the boundaries of your garden actually extend.
Camouflage exterior walls
A simple but effective trick is to paint the exterior wall green and plant climbing plants next to it. This will not only help add space, but also allow the borders to visually disappear. Learning how to paint a fence is not difficult, but be sure to do the prep work so you don't have to repaint the fence every summer.
Paint all surfaces the same color - walls, fences, countertops, etc. Sometimes a combination of colors can seem chaotic and cluttered, reducing the space. It is better to choose light and cool shades.
Add mirrors
Create the illusion of extra space with garden mirrors.
Expert Matt Jordan of The Greenhouse People recommends: "Place a weatherproof mirror on a side wall or fence to promote light in shadier corners. A garden mirror works best when it's expertly surrounded by foliage. But with any design, always make sure the mirror is protected from direct sunlight so there's no risk of accidental fire."
Vertical plantings
You can plant a hedge or use hanging baskets at different levels to add color and depth to your space.
Venetian fence panels are especially effective because the gaps can be filled with vines or climbing roses. By the way, how to tame a climbing rose - read in the material.
Earlier OBOZREVATEL told about the most important rules of lawn mowing.
Subscribe to OBOZREVATEL channels on Telegram and Viber to keep up with the latest news.